For more information and regular updates on Academy and Rugby please follow us on our Facebook page: https://www.facebook.com/oatsrugby
Barbarians Rugby Ōtūmoetai College/Bethlehem College Expressions of Interest
– Volunteer Coaches wanted for 2022 & Beyond
Barbarians Rugby is a combined rugby programme between Ōtūmoetai and Bethlehem Colleges which aims to provide fantastic rugby experiences for players. The programme is well supported by a Rugby Advisory Group, excellent sponsorship, modern gear, exceptional facilities and strong community and whanau support. It prides itself as being well resourced and a values-based rugby programme that aspires to produce excellent on-field results.  Our rugby programme has linked with the Good Neighbour Charity and with the aim of serving and volunteering for the betterment of our community.
In 2021, the Barbarians started their first ever rugby academy in term 1. The 1st XV went unbeaten in their bay-wide secondary school competition and a large number of the team return in 2022. The Under 16 and Under 14 teams competed well in their respective competitions and developed strong team cultures. A number of girls successfully played in a combined team with Mount College in a 10 aside competition in 2021.
In 2022 the academy will operate in term 1, teams will start training and preparing late term 1 once summer sports are finished and the season is played over term 2 and 3.
As we start to plan for 2022 and look to build the programme the Barbarians Advisory Group is seeking expressions of interest for Rugby Coaches and Managers for the 2022 Rugby season.
Teams that we are seeking expressions for are:
*1st XV Boys
*U16's Boys
*U14's Boys
*Girls 10's Team (Games are Monday afternoons – May – August)
* Male and Female 7's Coaches (Tournaments usually held in March and November)
In your expression of interest please provide this simple information. 
1.  Your name:
2.  Your mobile phone number:
3.  Your email address:
4.  Your brief coaching / managing experience, including any rugby course/s you may have done:
5.  Please provide any other coaches, managers, technical advisors you would include:
6.  Which team you would like to coach:
If you would like to meet to discuss in more detail our rugby programme please contact:  Richard Brown via email.   rbrown@otc.school.nz
Please submit your interest by simply answering the 6 questions above by: FRIDAY, OCTOBER 22, 2021 and send to:  Richard Brown via email:   rbrown@otc.school.nz
A panel made up from the:  Barbarians Rugby Advisory Group are tasked with the identification and selection of coaches and will be in contact after considering all expressions of interest.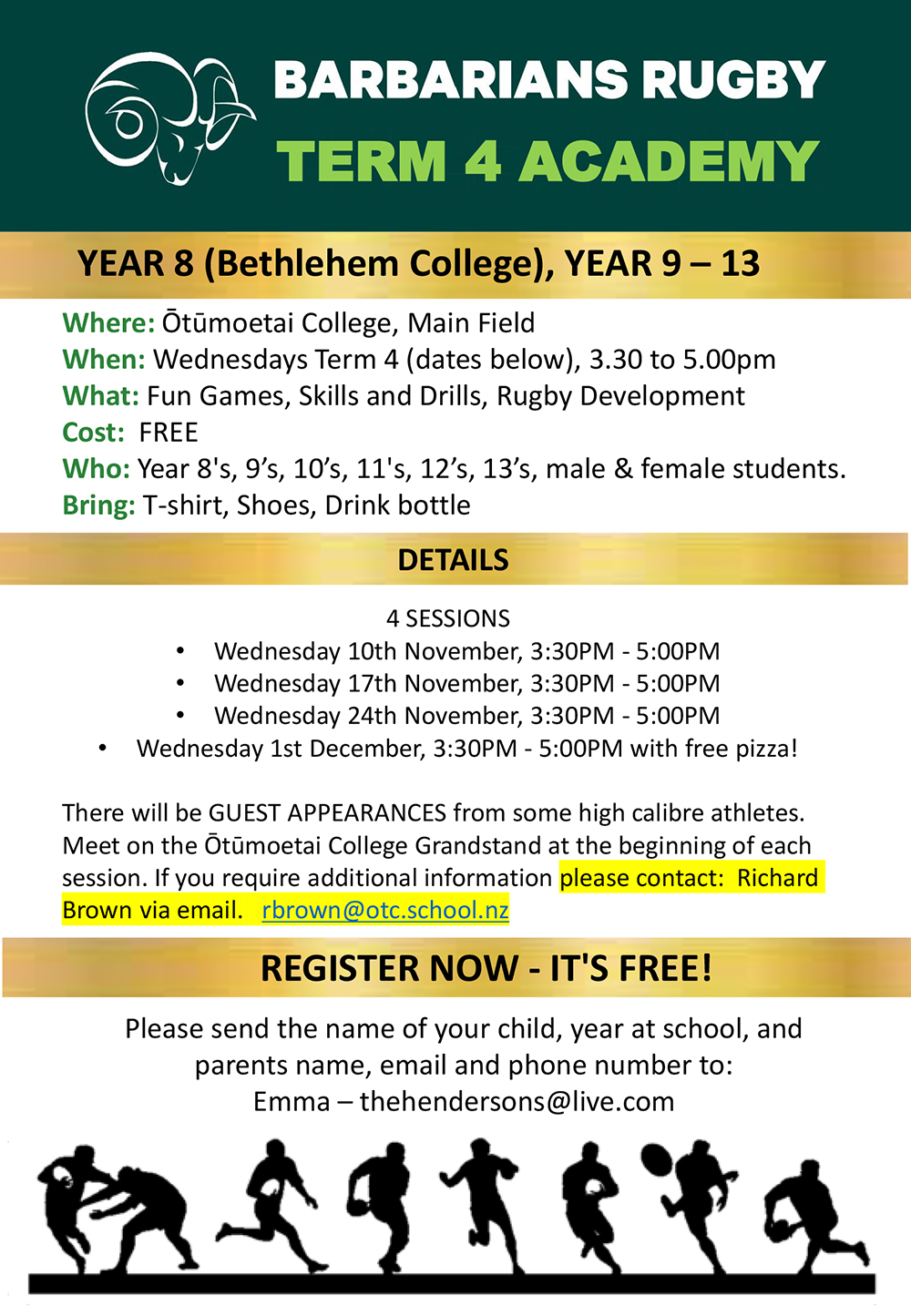 Competitive Rugby Terms 2 & 3
Competitive Rugby is played throughout the winter season in Terms 2 and 3. In 2021 we have a First XV, U16 and U14 in the male competition. We are still developing a women's program. Please see the table below for information on teams and trainings. Sevens rugby is played in Terms 1 and 4 – more information on sevens rugby can be found here: https://www.otc.school.nz/rugby-sevens
The Management and Coaching Teams have a goal of developing great young men and women through rugby and their programme.  It is values based. The players are expected to commit to being the best they can be. Our young players are challenged to; work harder, be better, in rugby and life. Our aspirational goal is for our players to be healthy, happy and successful, in rugby and society.
WHO: All current and starting Year 9 to Year 13 students who are interested in rugby. All skills levels welcome. Trials are held for First XV in Term 2.
WHEN: Competition games start the first week back in Term 2. Games are played throughout the Bay of Plenty and are either Friday evenings or Saturday mornings. Support is always available for transport. Trainings are held after school (see table below for more information).
COST:  First XV Rugby fees are set at $150.00 per player which includes their polo, shell jacket and training t-shirt. U16s & U14/15s fees are set at $110.00 which includes their shell jacket and training t-shirt.
TEAMS 2021
COACHES
TRAININGS
COMPETITION
1st XV Boys Rugby
Richard Brown
Sam Loudon
Bryce Lawrence
Tuesday 3.45 – 5.15pm
Thursday 3.45 – 5.15pm
 1st XV (Division 2) – Saturday Games
U16 Boys Rugby
John Boyle
Archie Grant
Sam Grant
Wednesday 3.45 – 5.15pm
Under 16 (Mike Delaney Cup) – Friday afternoon games
U14/15 Boys Rugby
Brett Fisher
Jason Crawford
David Brown
Manuel Efaraimo
Tuesday 3.45 – 5.15pm
Thursday 3.45 – 5.15pm
Under 14 (Nathan Harris Cup) – Saturday games
7s Girls Rugby
 TBC
7's Boys Rugby
 TBC
For all queries relating to rugby at Ōtūmoetai College, please contact the Ōtūmoetai College Sports Office, Email – pbraddock@otc.school.nz