Rugby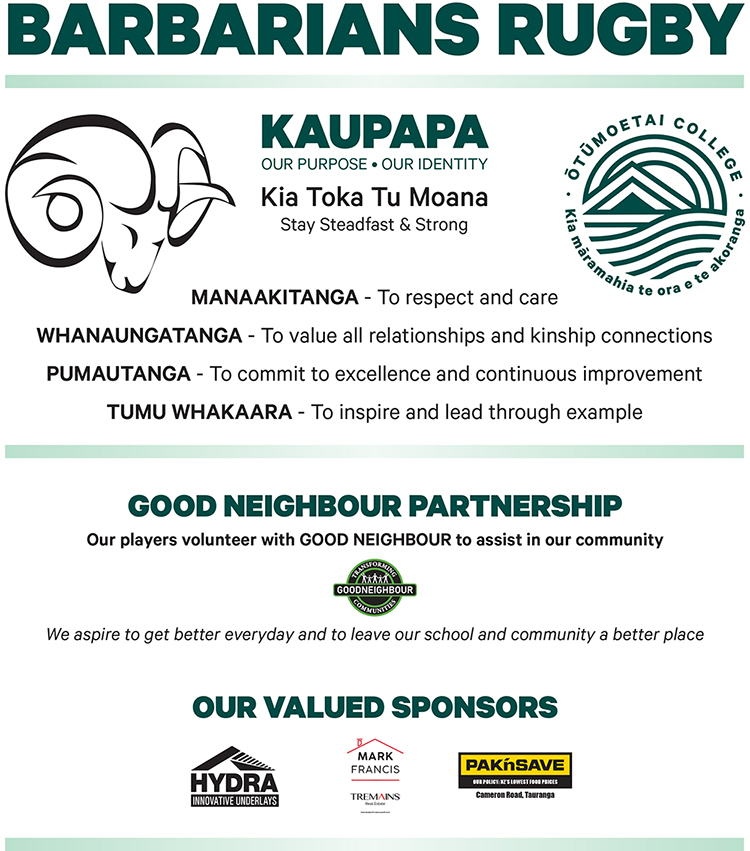 Coaches & Managers – Serious Injury Report Form
ALL RUGBY RELATED QUERIES PLEASE CONTACT: RICHARD BROWN at rbrown@otc.school.nz

Proudly sponsored by: HYDRA, Pak'nSave (Cameron Road) & Mark Francis Tremains
Barbarians Rugby is a combined rugby programme between Ōtūmoetai and Bethlehem Colleges which aims to provide fantastic rugby experiences for players. The programme is well supported by a Rugby Advisory Group, excellent sponsorship, modern gear, exceptional facilities and strong community and whanau support. It prides itself as being well resourced and a values-based rugby programme that aspires to produce excellent on-field results.  Our rugby programme has linked with the Good Neighbour Charity and with the aim of serving and volunteering for the betterment of our community.
In 2021, the Barbarians started their first ever rugby academy in term 1. The 1st XV went unbeaten in their bay-wide secondary school competition and a large number of the team return in 2022. The Under 16 and Under 14 teams competed well in their respective competitions and developed strong team cultures. A number of girls successfully played in a combined team with Mount College in a 10 aside competition in 2021.
In 2022 the academy will operate in term 1, teams will start training and preparing late term 1 once summer sports are finished and the season is played over term 2 and 3.
For the most up to date information on Rugby and the Academy, please follow us on our Facebook page: https://www.facebook.com/oatsrugby
Click here for Female Rugby Information
View the Female Rugby Players Wanted Poster
Competitive Rugby Terms 2 & 3
Competitive Rugby is played throughout the winter season in Terms 2 and 3. In 2022 we have a First XV, U16 and U14 in the male competition. Our Female Rugby Programe is linked with Mount Maunganui College. Please see the table below for information on teams and trainings. Sevens rugby is played in Terms 1 and 4.
The Management and Coaching Teams have a goal of developing great young men and women through rugby and their programme.  It is values based. The players are expected to commit to being the best they can be. Our young players are challenged to; work harder, be better, in rugby and life. Our aspirational goal is for our players to be healthy, happy and successful, in rugby and society.
WHO: All current and starting Year 9 to Year 13 students who are interested in rugby. All skills levels welcome. Trials are held for First XV in late Term 1.
WHEN: Competition games start the first week back in Term 2. Games are played throughout the Bay of Plenty and are either Friday evenings or Saturday mornings. Support is always available for transport. Trainings are held after school (see table below for more information).
COST:  First XV Rugby fees are set at $150.00 per player which includes their polo, shell jacket and training t-shirt. U16s & U14/15s fees are set at $110.00 which includes their shell jacket and training t-shirt.
Rugby Fees Cover:
All travel to away games

Warm-up t shirts

Shorts

Socks

Polo shirt (First XV)

All strapping and insulation tape

Food on game days (when applicable)

Coaching development

Jackets are also issued, however, collected in at the of the year

The Rugby Programme also incur costs for purchasing rugby balls to train and play with, the upkeep and maintenance of gear, such as; tackle bags, hit shields, goal post protectors, side-line posts. The school also like to provide new rugby jerseys for each team every two to three years. A cost per set (team) of rugby jerseys is approximately, $2500.00.
The fees will be added to your son's school account.
TEAMS 2022
COACHES
TRAININGS
COMPETITION
1st XV Boys Rugby
Mat Black
John O'Loan
Tuesday 3.45 – 5.15pm
Thursday 3.45 – 5.15pm
1st XV – Saturday Games
12pm kick off
U16 Boys Rugby
David Brown
Ben Haldezos
Tuesday 3.45 – 5.15pm
Thursday 3.45 – 5.15pm
Under 16 – Friday games
4.00pm kick off
U14/15 Boys Rugby
James Henderson
Wayne Becker
Tim Goodman
Tuesday 3.45 – 5.15pm
Thursday 3.45 – 5.15pm
Under 14 – Saturday games
10.30am kick off
7s  Rugby
Richard Brown
For all queries relating to rugby at Ōtūmoetai College, please contact  rbrown@otc.school.nz
Rugby Connecting with Good Neighbour
Our rugby programme aspires to have all our players develop an understanding of… giving back and being community minded.
Good Neighbour, who have many key values, one being: Volunteers creating a serving culture.  As such, we have teamed up with Good Neighbour and our players, both male and female, have assisted Good Neighbour in serving the community through firewood and food deliveries.
Due to the success of our annual Fundraiser earlier in the year, we were able to DONATE, $4,000.00 to our GOOD NEIGHBOUR CHARITY.  We thank Jason Rowling again for this wonderful and enriching partnership.