While we had 12 students from Ōtūmoetai College make the top 280 best spellers for the NZ Spelling Bee, myself and several parents took only three students to the Regional Finals, in Hamilton.
They were Carmen Green (Yr 10), Toni Johns (yr 9) and Nathan Murray (yr 10). 
Usually there is a written round of 20 words, which will eliminate some students straight away. However, due to the sudden news of a Covid 19 outbreak in Auckland, the organizers wisely decided to reduce the competition to only the oral round. This meant that the small pool of students that were there automatically advanced to the oral round, which means going straight up on stage.
The students were given one practice round, and then went straight into getting words such as 'bureaucracy', and "incipient' fired at them. One slip of a letter, and the dreaded bell rings.  These are all words that seem easy enough to spell from the comfort of your chair, but when you are up on the stage, with lights shining brightly in your face, in front of an audience, it is not so straightforward!  Carmen and Toni put up a valiant effort, but exited with grace and dignity, after spelling some very hard words.  Nathan Murray then had to go head to head with another student, for several rounds,  to secure 3rd place and make it through to the National Finals in Wellington in November.
He will be flown down with a parent for a fun, free weekend, so that in itself is a pretty good prize. We wish him all the very best for the final and a shot at the $5000! All students represented the college with maturity and dignity, well done to you all. – Written by Mrs Secker (English Teacher)
Feature photo: All contestants from Central North Island, shows Toni, Carmen, and Nathan ready to spell.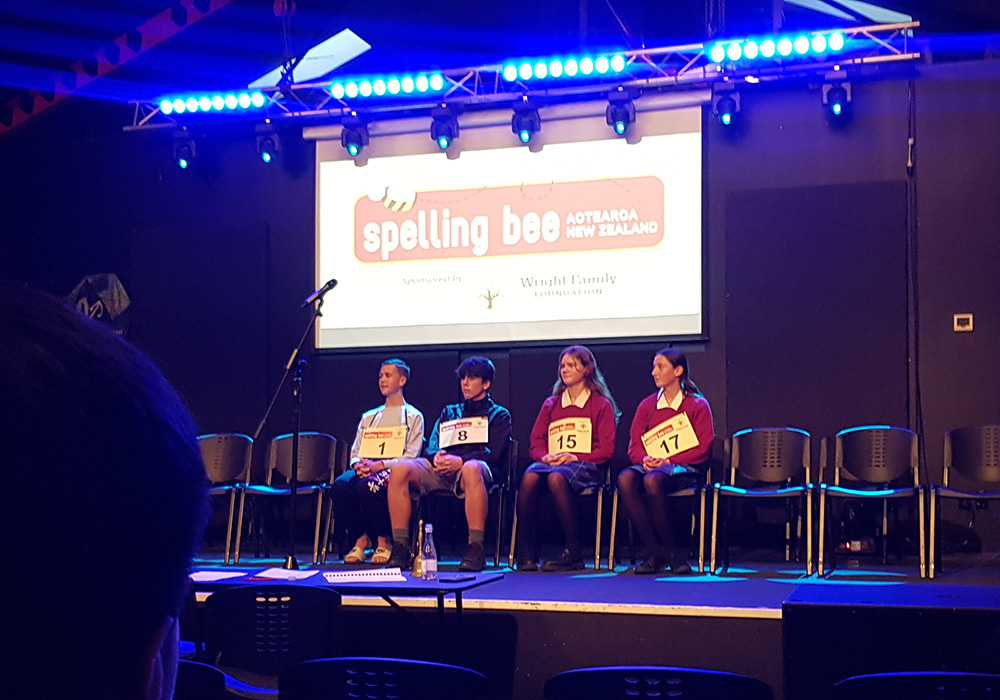 Top 4, including Nathan Murray, representing Ōtūmoetai College.