The Ōtūmoetai College Rowing Team attended the 75th Maadi Cup in Twizel this past week at Lake Ruataniwha. It was a huge accomplishment just getting to the regatta with age restrictions, mandates, zones and COVID. However, with the amazing support of our sports department, parents and coaches, we got there!
Our team of Chloe Wright (captain), Jenna Brangwynne, Sarah Laban ten Dam, Sarah Paterson, Marika Porteners, Lydia Cunliffe, Elsa Alexander, Caitlin Wain, Nina Turner, Zoe Stubbing, Zara Brangwynne (cox), Jack McClutchie, Kahnya Donaldson-Pihama, Matthew Ryder and Loui Alexander were entered into 11 races. 
The rowers gave it their all throughout the week and the results of the finals were:
Jack McClutchie – 7th in C final (U17 Single)
Caitlin Wain & Zoe Stubbing – 7th in A final (U18 Novice Double)
Jenna Brangwynne – 1st in B final (U17 Single)
Jenna Brangwynne & Sarah Laban ten Dam – 4th in B final (U17 Double)
Chloe Wright & Nina Turner – 4th in C final (U17 Double)
A huge congratulations to all our rowers as well as our fantastic coaching team of Paul Clinton, Steve Porteners, Steve Rush, Teisha Pihama & Brandon Manuel.
The team also wants to acknowledge the contributions of our teammates Chloe Wallsgrove & Sophie Read. We are now going to have a well earned break and look forward to an exciting 2022/2023 season.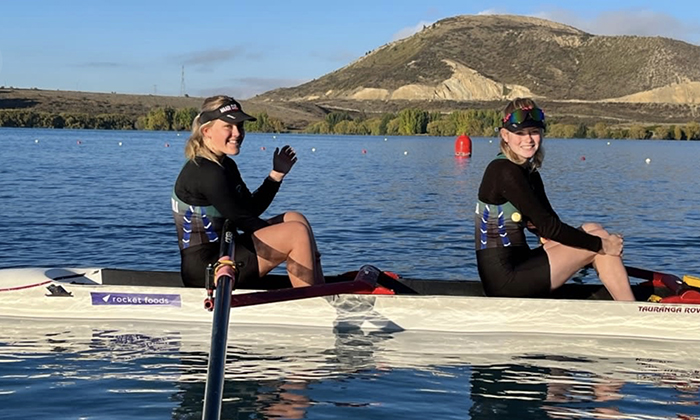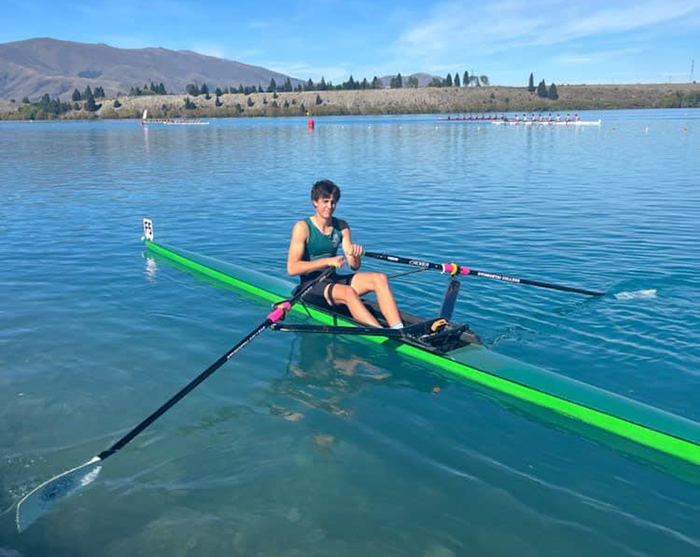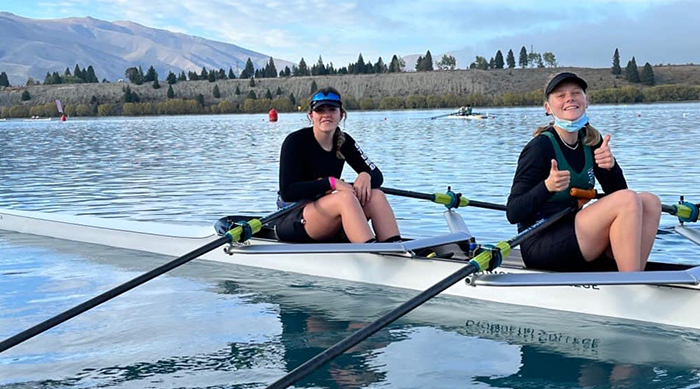 Congratulations to Ashton Blair and Eva Guccione who have been selected to represent NZ in the Canoe Slalom World Championships in Italy.
Also congratulations to Teaghan Denney who has been selected as the NZ Yachting Rep in the same Championships.
It was "touch and go" until the last minute as to whether we could pull together a team for the CNI 420 team sailing regatta, but we did it, with some help from other schools. The team had a fantastic time, some challenges, skill building and plenty of fun. Our three year 13 sailors (Rhys Stewart, Anthony Wigley and Helena Barber) got to compete before finishing school, as COVID and other hurdles had stopped them for two previous years. Miya Prescott and Anthony led our team out in most races, and Rhys and Carmen Green also helmed, with Helena and Seb Newman crewing.
The camaraderie between many teams was great, especially those from Toi Moana Bay of Plenty. There were many acts of sportsmanship and constant support for one another throughout the event, both on and off the water.
We would particularly like to thank the Katikati/Mt Maunganui College team for loaning us a crew member for two days and Tauranga Boys College for providing us with a helm for two days.
Finally, thanks to our TYPBC coach Lorenz, to Hamish Carr (Katikati College teacher) who offered constant enthusiastic support for the whole term, and BOPSAT for the yachts. We are looking forward to returning next year.
We had four Senior Volleyball teams travel to Taupo at the end of last week to compete in a Volleyball festival to end the interrupted season that our athletes have faced. All of our teams played some outstanding Volleyball and the athletes had an awesome time.
Our Senior A Boys had two good wins and two very close losses finishing the tournament playing a game against the B boys in which they mixed things up and just had heaps of fun playing within the teams. Our Senior B girls had three very close games and a loss, two that were 5 set games.
Our A girls had an outstanding weekend. The girls won both games on Friday against Katikati College & Bethlehem College which put them into a playoff game against Tauranga Girls which they won 3-0. After a big weekend the girls played in the final against Taupo and in a very exciting match the girls came back from being down 1-2 to win in the 5th set.
It was the best couple of days away for our athletes that have trained so hard and missed out on so much over the past three seasons. Huge thanks to our coaches of the teams in Taupo; Adam Braddock, Shane Blake, Stewart Henderson, Steve Meredith and Abbie Johnston.
Crumbs in the Back of the Car
Year 9 Food Technology have experienced their first ever Design Sprint.
They were challenged with the problem of a messy car.
The students began by building empathy with Mrs Armstrong, a teacher who kindly offered to share her messy car dilemma. The students learned to 'dig deep' with their questioning to really try and understand the problem. Empathy enabled the students to look at the problem from all angles. Some considered time, others boredom, some considered food products minus the crumbs others felt more radical cleaning equipment was needed.
Ideas were quickly sketched, a final solution was selected and then the fun part – a rapid prototype was built.
Students presented their prototypes to Mrs Armstrong and the class. They communicated their ideas with confidence and demonstrated that strong empathy can definitely lead to great solutions. The back of Mrs Armstrong's car has had a complete makeover! Thanks Year 9.