School Ball – 21 May 2022
Please click on the link below to view the School Ball information which was emailed to all Year 12 & 13 Students on 4 May. Please read the information and expectations and share with your families.

Doors open at 7.30pm and close at 8.15pm, students may not leave before 11.00pm.
This term our dramatists will be taking to the stage to perform our Senior and Junior plays.
The Junior Play involves approximately 30 year 9 and 10 students, who have been rehearsing hard since the beginning of the year, with their director Mrs Dean.
They are performing a play entitled GIZMO, by Alan Ackybourne. The play is a comedy… When an everyday barman witnesses a terrible tragedy, he is over taken by paralysis, which leads him to become a guinea pig for the latest medical treatment, a wrist watch that controls his every movement. But what happens when the wrist watch falls into the wrong hands?
The Senior Play involves approximately 20 year 11, 12 and 13 students. They have also been rehearsing with director Mrs Rowe since the beginning of the year. 
Once again comedy is the name of the game! They will be performing a stage adaptation of the popular television series MIRANDA. A series of unfortunate and cringe worthy events are revealed as Miranda lurches from one awkward situation to another.
Both of these plays will be performed in the College's Performing Arts Centre. Gizmo on 7th and 8th June and Miranda on 22nd and 23rd June. All tickets are available from the College reception costing $10 for adults and $5 for students. All performances start at 7pm. 
We hope you can come and join us, it promises to be "Such Fun!"
"One of our very talented Year 9 students, Zen Miyanami (pictured right), has been involved in the Tauranga Musical Theatre Production of That Bloody Woman, a rock musical about Kate Sheppherd and the Women's Suffrage Movement.
This is a huge task for any musician let alone a 12 year old (Sorry Zen!). Zen is an incredible musician and a fantastic young man. It is a pleasure having him involved in the arts at Ōtūmoetai College. Also involved in the band is former Ōtūmoetai student, Ethan Shiriwastow (2nd from right)". – Mr Bodman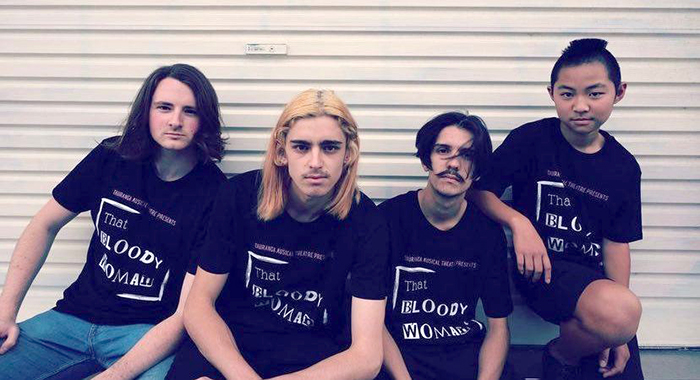 Please click on the link below to view details about rugby fixtures this week.
Rugby Fixtures this Week – 7 May
This is the first competition game of the year – your support would be most welcome.
The Takitumu Hub in J03 is due to kick off again every Wednesday (from 11 May) afterschool until 5.00pm.
This is open for all as a skill growth/ study/ homework/ assessment support/ mentoring support session once per week.
A team of teachers and whanau members will be here to provide kai and support for all.
Nāu mai, Haere mai!!
Netball
Congratulations to the following students who have been selected to Tauranga Netball Representative teams.
U14 – Chelsea Williamson
U16 – Paige Peters
U18 – Emily Muspratt

Badminton
The following students have been selected to Badminton Representative teams.
WaiBOP U17 Boys – Lachlan Shefferd
BOP U17 Boys – Jack Ouwejan
BOP U17 Girls – Charlotte Spearman
BOP U19 Boys – Azmi Hirota
BOP U19 Girls – Megan Lake & Deep Kaur

Rowing
Congratulations to ex-student Emma Averill who has made the 2022 Rowing NZ Under 19 Team to compete at the World Rowing Championships in Varese, Italy 27-31 July.