NZ Secondary Schools Cross Country
Ōtūmoetai College Sports Office would like to congratulate Charo Heijnen, who attained 11th position in a field of 103 athletes at the New Zealand Secondary Schools Cross Country event that took place at Saxton Field, Nelson 18-19 June.
The course comprised three laps: 2x 1km laps and 1x 2km lap (4kms) making for a fast but mostly flat course. The 2km lap extension went through a small patch of bush then circled football fields to an embankment which included several taxing undulations to test the athlete's fitness. A very challenging course, which was to be expected at a high level New Zealand event.
After a tricky start to the season the boys put up a great 2-0 win against Aquinas 1st XI. Goals coming from Gabriel Tinnion and Mino Deckers either side of halftime saw the team comfortably win and grab our first points of the season. 
Hopefully the team can build on this win against a tough looking Bethlehem College squad next weekend! – Moses Caldwell.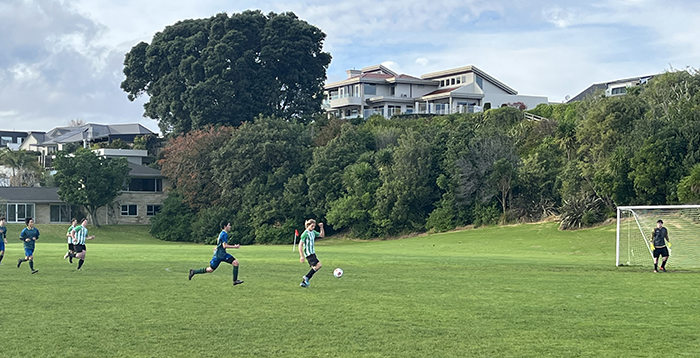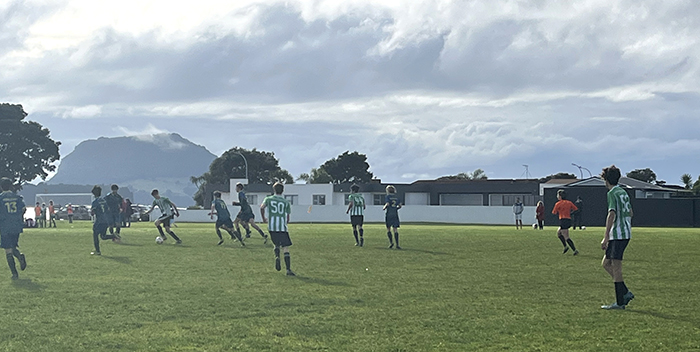 Photos supplied by Helen Hiku.
Girls Not So Sports Club – it's up and running!
As mentioned earlier in the term we were very excited to announce that the Christchurch based Forward Foundation had joined forces with us here at Ōtūmoetai College in order to bring our girls the very successful 'Not So Sports Club'.
Last Wednesday we had the privilege of welcoming Kim Lazor to Ōtūmoetai College as our very first Not So Sports Club girls left for an afternoon of Crazy Golf. Kim is the founder of the Forward Foundation and creator of this fantastic initiative; Not So Sports Club.
Kathy Miller is the Forward Foundation Bay of Plenty coordinator and is running our amazing club where the girls will take part in various activities each Wednesday afterschool. This will continue throughout the rest of the school year with its main purpose being to offer them a space where sport & active recreation can be a positive experience. – Ian Ridgway.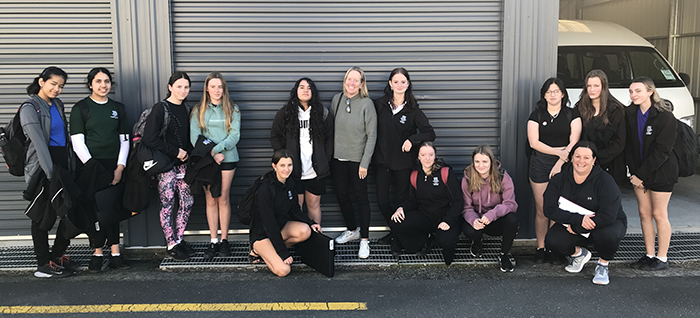 Ōtūmoetai College Not So Sports Club Girls, Kim Lazor (grey jumper) Forward Foundation, Kathy Miller – NSSC BOP Coordinator.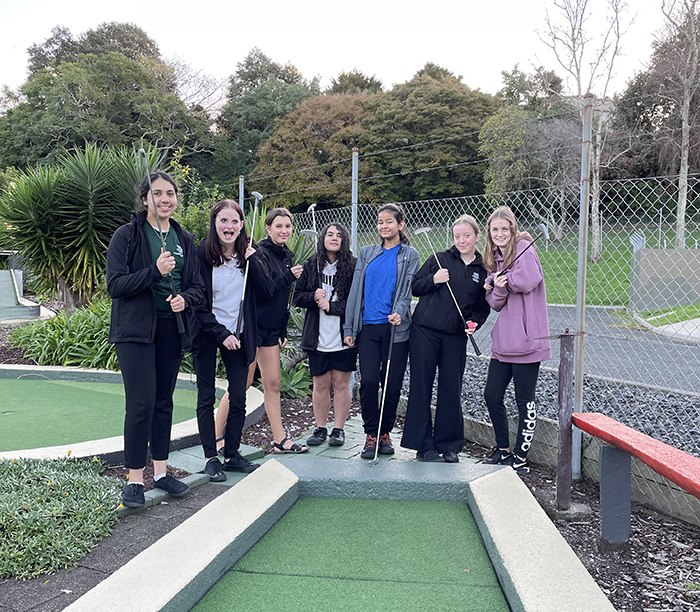 Not So Sports Club – Crazy Golf at Memorial Park.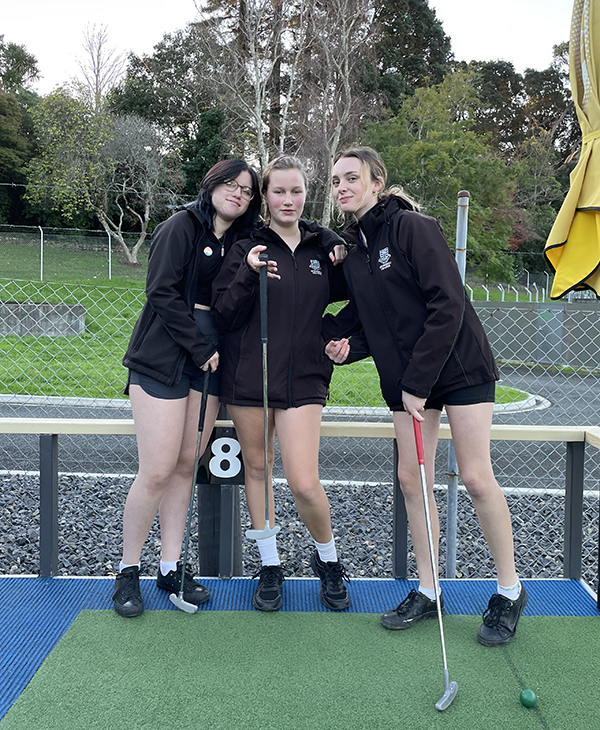 Netball – Premier 1 vs Mount Maunganui Friday 17th June
Our starting 7 lineup this week as GK Abbey Frances, GD Hailey Cottam ( Team Captain ), WD Bodette Petero, C Emily Muspratt, WA Kiana Rae, GA Tiani Rae, GS Eden Cornwell and our subs Paige Peters and Gracie Savage with Abby Finlayson away sick and Mia Gray still on the sideline injured.
We started off rocky but quickly found our rhythm. Mount took the lead at the end of the first quarter but it was goal for goal for about half the quarter. In the second quarter our circle defense, Hailey and Bodette, got many tips and intercepts and were very quick on their feet. Our mid court, Kiana, Emily and Paige, had some beautiful feeds into our shooters, Tiani and Eden, who took every shot they could.
Sadly Mount still took the lead heading into half time. In the 3rd quarter we started off strong and started catching up with Mount. We sped up moving the ball down the court which made us have a bit of loose ball. Again we had lots of tips in the defence circle and we had some more perfect passes into the circle. Our GD Hailey threw multiple feeds into our shooting circle from the transverse line and our shooters always caught them.
Mount went into the last quarter time being in the lead. In the last and final quarter we were all tired but we held our own and played our own game and we played well. Again lots of tips and intercepts down the defense end but we threw away some ball because we we're going too fast. Unfortunately we could not catch up to Mount and we lost but we held our heads high. Our player of the day this week was Bodette Petero and it was well deserved.