Sport Performance Trip to Adams Centre for High Performance
Last week the two Year 10 Sport Performance classes had the opportunity to experience life as a Professional Athlete during their trip to the Adams Centre of High Performance in Mount Maunganui. 
The students were put through their paces by the Strength and Conditioning team at the centre. Following a warm up using Watt bikes and body weight exercises, the class split into three different groups, which moved around different stations. One group completed a gruelling Crossfit style workout, which tested the students' muscular endurance. Another group utilised the timing equipment on offer, to test their ability to change direction.
The last group got a chance to visit the Enviro chamber and Sport Science facility, run by the University of Waikato. Here the students tested their Vo2 max as well as experiencing the same environmental conditions as a Tokyo summer – 35 degrees and 80% humidity. Not surprisingly the sweat was dripping from them pretty quickly.
A highlight was seeing members of the New Zealand mens and womens Sevens team training in the same environment. The athleticism of these athletes was a real eye opener for the students and teachers alike. All students thoroughly enjoyed the opportunity to visit the centre and we look forward to future visits going forward. Thanks to Mr Ridgway for supporting this trip. – Mr Loudon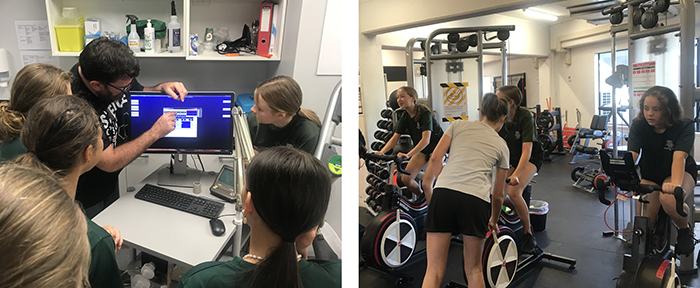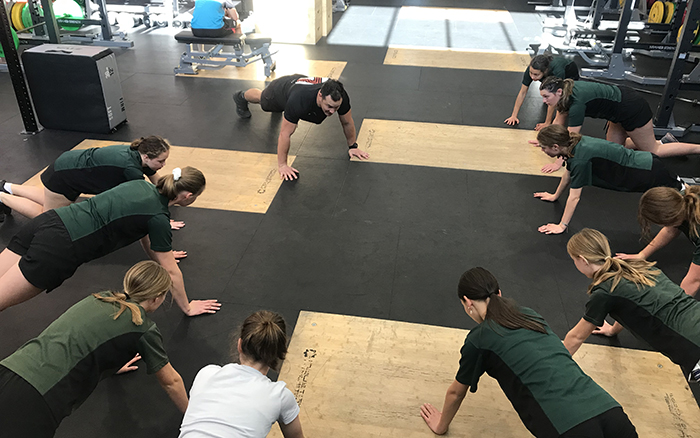 FREE Young Driver Workshops
Free workshop to improve your knowledge, confidence and skills. Aimed at young road users, aged between 16 and 24, who hold a current learner or restricted driver licence.
Each workshop includes:
Driver behaviour (speed, impairment, restraints, distraction and fatigue awareness)

A 60-minute one-on-one driving lesson with a certified instructor

Waka Kotahi NZTA roadworthy vehicle check (What to check to ensure your vehicle is safe and road worthy)

Awareness session on sharing the road with heavy vehicles 
Parents/caregivers are strongly encouraged to attend (but not compulsory). The 4-hour workshops are held during school term holidays (9am-1pm).
The next workshops will be held 21 and 22 July 2022, Register Here
Follow us on Facebook for updates or for more information, contact the Travel Safe School Coordinator travelsafeschools@tauranga.govt.nz.
Smokefree Rock Quest Heats – Friday 1 July
Five Ōtūmoetai College bands will be performing at the Rock Quest this Friday. Our groups more than likely won't hit the stage until between 9.00pm-10.00pm. If you are interested in coming along to Baycourt, the students involved are:
Tabby – Cole Jackson, Joshy Torrey, Jacob Harrison & Luke Muspratt.
the nobodies – Ryan Paxie, Arielle Viduya, Briarna Grieg-Merritt, Liliana Smith, Tyler Sainty & Braxton Clyde.
Kongregate – Riley Puru-Wilson, Mikaere Wilson, Rhys Tinnion & Nathan Murray.
bla bla uh huh boo hoo – Lucy Dibble, Zen Miyanami, Eden Cornwell & Lexey Walker.
Temp22 – Zoe Russell, Caleb Brewerton, Tom Voller & Oliver Willacy.
BOP Chamber Music Competition & Big Sing
Ōtūmoetai College had five groups enter the Bay of Plenty Chamber Music competition. The groups all performed amazingly and enjoyed the opportunity to make music with, and for, other people!
In the lead up to the NZ Chamber Music competition, Ōtūmoetai College music students had the opportunity to enjoy a coaching session with Hannah Darroch, principal Flute player in the Christchurch Symphony Orchestra.
Big Sing – for the first time in a number of years, the Ōtūmoetai College Choir entered the regional Big Sing Choir competition.  Led by Mrs Corisha Hitchcock and accompanied by Mr Leon Gray-Lockhart, these students represented the school with pride and sang amazingly.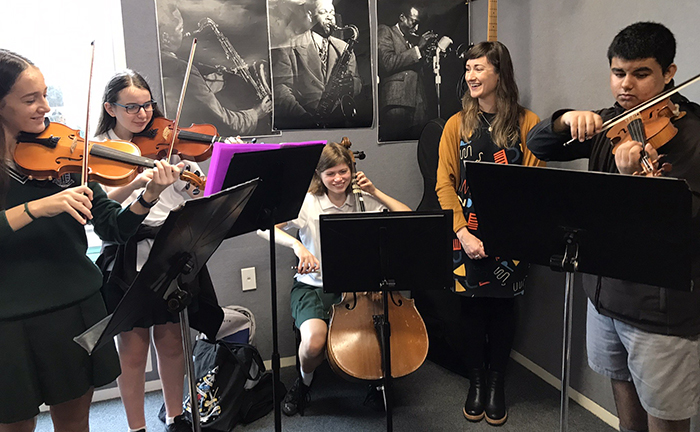 Kaitlyn Napier, Rylee Bell, Megan Sushames, Hannah Darroch and Nrushinga Rath.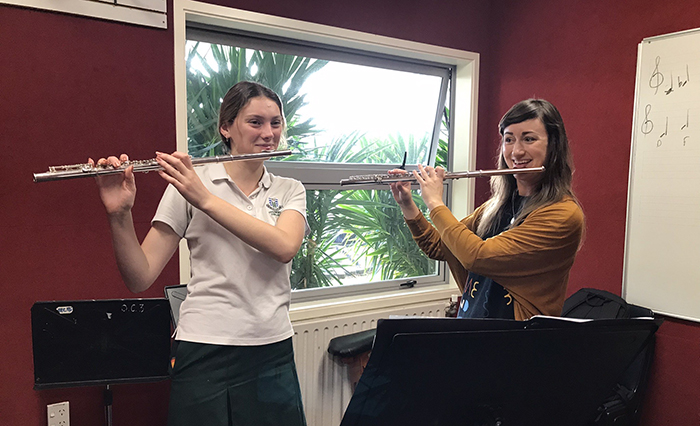 Hannah Stevens with Hannah Darroch.
Kia Ora, The College Environment Committee would like to welcome you to Plastic Free July.
While the aim of Plastic Free July is to reduce the amount of plastic we use, the Environment Committee would like to encourage members of the College Community to recycle as much plastic as possible and are excited to introduce the extension of the Soft Plastic Recycling scheme – which starts on July 4th.
Until now, the only place in the wider Tauranga area where soft plastics could be placed for recycling was Countdown Bethlehem.
From July 4th these shops will have the soft plastic recycling bins.
| | |
| --- | --- |
| Store | Location |
| The Warehouse | Tauranga |
| The Warehouse | Tauranga Crossing |
| The Warehouse | Fraser Cove |
| The Warehouse | Papamoa |
| Bayfair | Mount Maunganui |
| Countdown | Bureta Park |
| Countdown | Fraser Cove |
| Countdown | Tauranga |
| Countdown | Papamoa |
| New World | Tauranga – Gate Pa |
| Four Square | The Lakes |
| New World | Mount Maunganui |
| PAK'nSAVE | Papamoa |
| PAK'nSAVE | Tauriko |
| PAK'nSAVE | Cameron Road Tauranga |
Here is the link to the Soft Plastic Recycling website.
Some of the amazing products made in Aotearoa NZ are here.

What plastics can be recycled?
The project takes all soft plastic bags including bread bags, frozen food bags, toilet paper packaging, confectionery and biscuit wrap, chip bags, pasta and rice bags, courier envelopes, shopping bags, sanitary hygiene packaging – basically anything made of plastic which can be scrunched into a ball.
Please make sure the bags are empty and dry.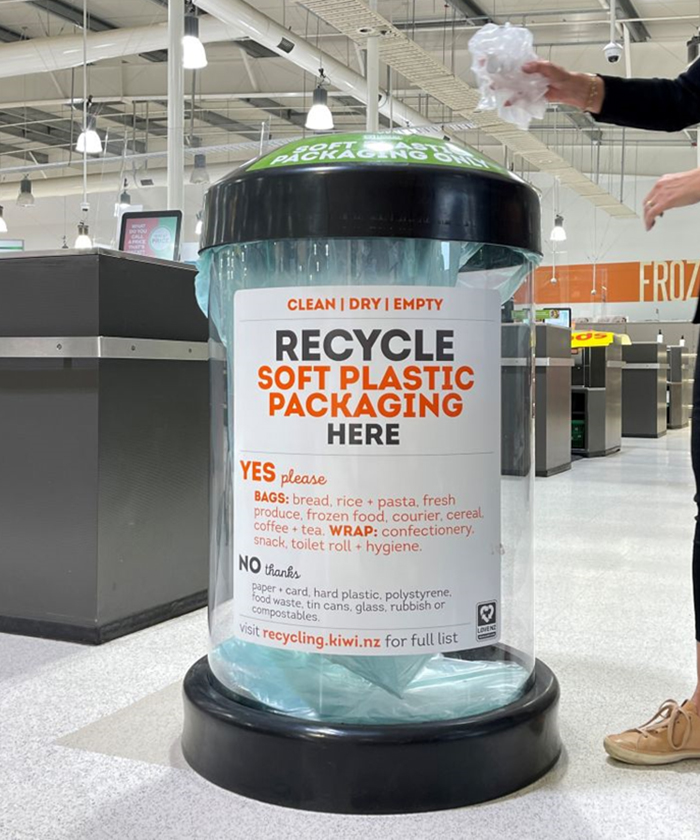 At Ōtūmoetai College we encourage students to join up to the Student Volunteer Army. Being responsible for the soft plastic recycling (actually All the recycling) is a great way to add volunteer hours. Volunteering can be great for the whanau, neighbours and wider community. Showing how you volunteer also looks great on a CV and for University Scholarships.
Have a wonderful plastic less/recycling more July.
Music Concert – Please Note this is now Postponed – Date to be advised
The Music Department will be presenting a Concert to celebrate the success of the music student's work throughout the year.
The Concert will take place in the Ōtūmoetai College Performing Arts Centre on (date now to be advised) at 5.45pm through until around 7.30pm.
This is a FREE event and includes the following groups & performers: Symphonic Band, String Orchestra, Jazz Combo, Choir, NCEA performances, Jazz Band, Chamber Music Ensembles, Smokefree Rockquest Bands & Guitar Ensemble.
We look forward to seeing lots of family and friends supporting the student performance!