Business Management Young Enterprise teams from around the Bay of Plenty recently pitched their business ideas at Venture Centre HQ to a panel of judges from the local business community.
As part of the year long Young Enterprise programme, our students (eight Ōtūmoetai College business groups) raised up to the challenge – The Business Pitch! They worked tirelessly behind the scenes to prepare for this very day.
It was incredible watching rangatahi flourish and thrive through their entrepreneurial ventures!
What an abundance of entrepreneurship, innovation and leadership here at Ōtūmoetai College!  Please watch this space or check out the YES company links to see when and where these teams will be selling their products. Please support our Young Enterprise students. Their commitment, determination, teamwork and courage are the very skills these Young Entrepreneurs are cultivating through their YES experience.
Ōtūmoetai College Teams include:
Moore Treats – Sole Trader – Neisha Moore
Moore Treats is tackling the problem of limited sweet, unprocessed, healthy snack options that are convenient for people with dietary issues and allergies… that actually taste great -by creating homemade healthy snack logs made from raw ingredients you'll love! These homemade flavours include, Choco Date'n'Nut, Ginger Crunch, Cacao Apricot and Choc Zesty Seed YUM! Simply take Neisha's real, raw log out of the fridge, cut to the thickness of your choice and enjoy.  People's wholesome, guilt free treat! Too healthy not to share!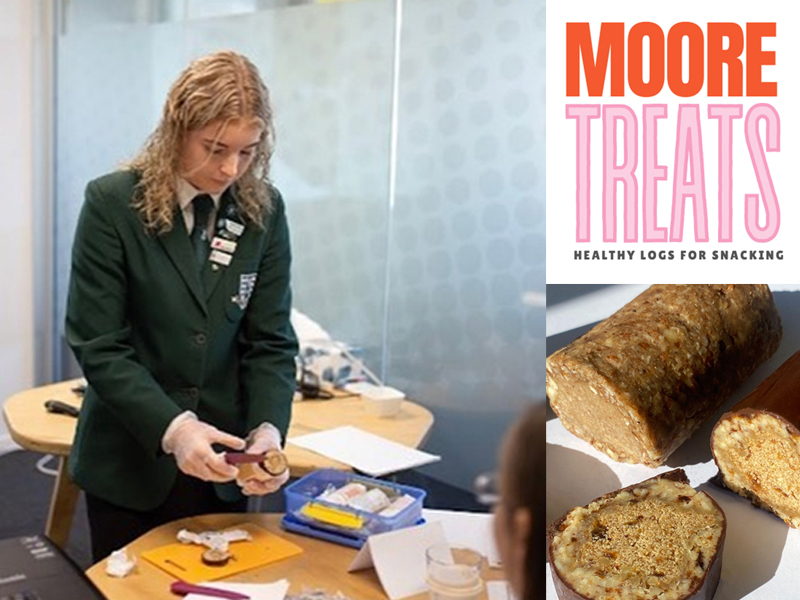 Neisha Moore giving out taste tests to the judges.
Solid Solutions – Helena Barber, Kayla Bowles & Jemma Wakerley
Solid Solutions has produced "Dish Grit" a single-use, dissolvable dishwashing tablet for hand washing dishes that are portion controlled individually wrapped solids which are packed in eco-friendly, single serve sachets. Dish Grits are low-irritant and grey water friendly; ideal for campers.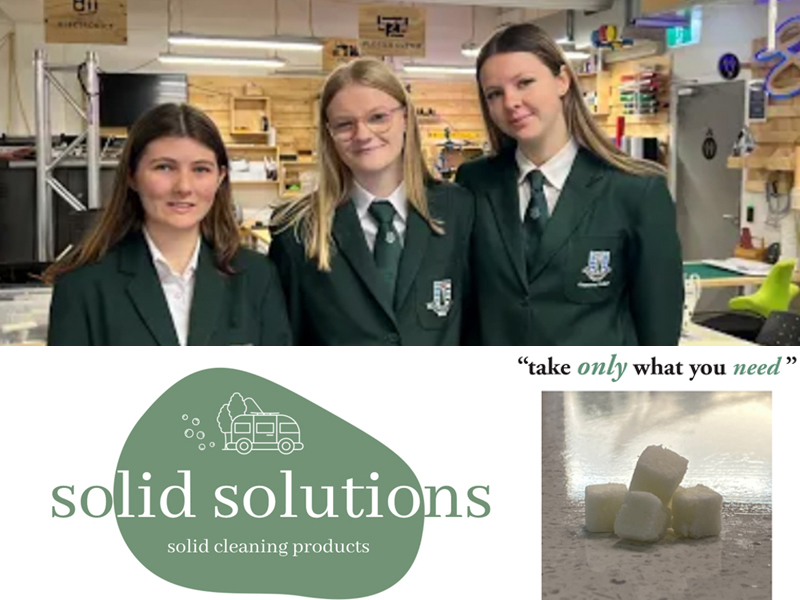 Aotearoa Adventures – Marco Ward, Anabelle De Maudave Bestel, Grace Fellows, Isabella Neale-Snashall & Samara Wilson
Aotearoa Adventures is producing a fun educational way for people of all ages and skill levels to learn about Kiwiana-themed trivia that will help to boost a lack of knowledge about our country.
Our game provides the customer with 3 sets of cards which range from easy, medium, and hard, enabling the whole family (with different levels of knowledge) to play together. The game includes a board that depicts the Sky Tower which the player has to climb by answering questions correctly to move up the floors towards the top.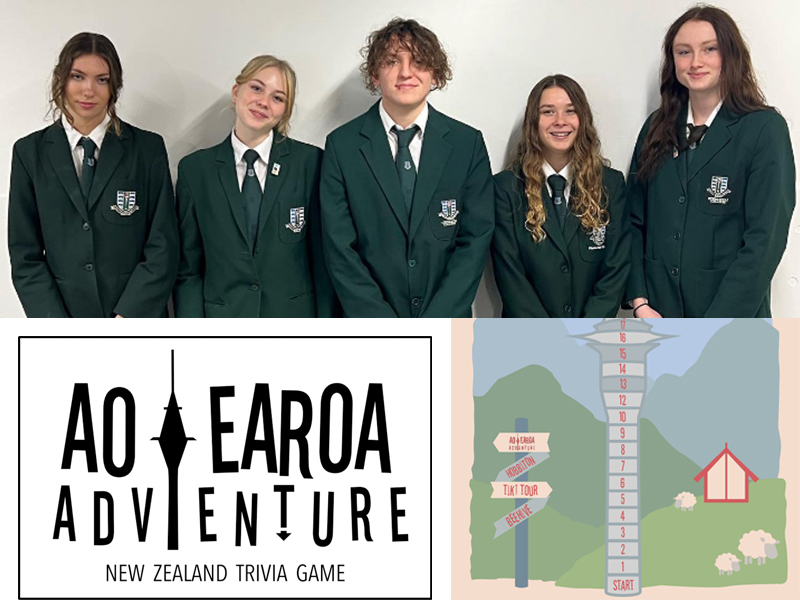 Pallet Plants – Megan Van Wyk, Robert Unsworth, McKayla Vickers, Sapphire Dudley, Milo Clark & Kelan Marshall
Pallet Plants is committed to preventing wooden pallets from going to waste which would create numerous negative consequences for our environment and communities. To do this, Pallet Plants upcycles these wooden pallets into an indoor plant holder, laser cut to make decorative home decor.
Pallet Plants directors are passionate about reducing carbon emissions and reducing the waste of wooden pallets around the Tauranga region and committed to educate others on how they can be more environmentally friendly.
Pallet Plants will also be donating $1 per product purchased to onetreeplanted.org which is a non-profit organisation who plant one tree for each dollar donated.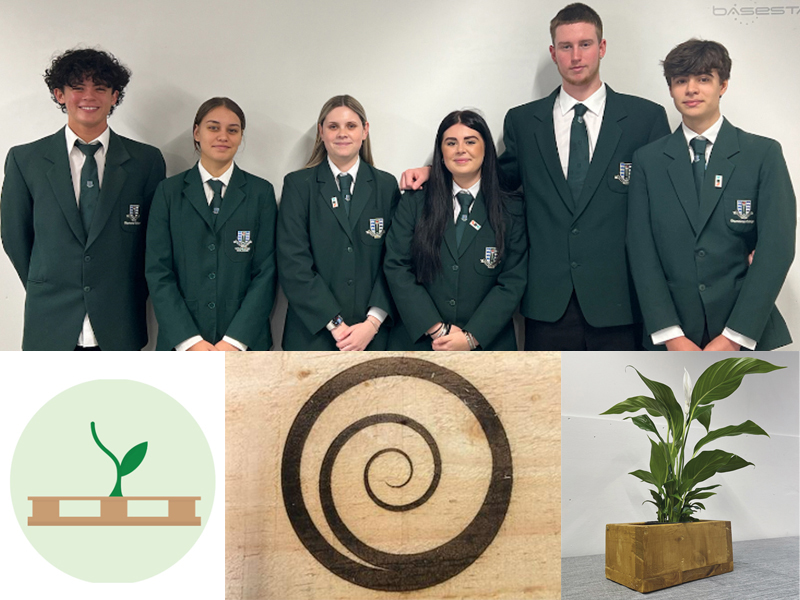 A Good Sign – Caitlin Spalding, Angus Scott, Joel Beets, Zykyia Peka & Tommy Zhang
Welcome guests and include Maori language in your home with A Good Sign. We strongly believe in conserving our environment for future generations, therefore we repurpose heat treated wooden pallets into house warming signs to lighten up any home.
With one purchase we will donate 5% of profit towards Homes Of Hope, helping kiwi kids find safe homes.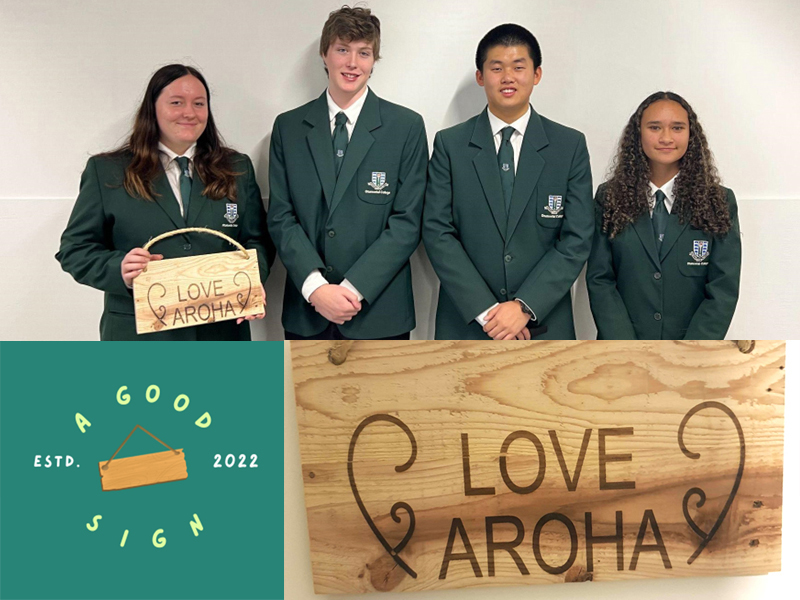 Organica Skin Care – Seth Turner, Hayes Winn-Tohill, Logan Purser & Shlok Kansara
Our product is a multi purpose all organic acne spray, encouraging healthier skin in New Zealand, while promoting kaitiakitanga; preserving the environment for future generations by using all sustainable packaging; PET bottles, biodegradable wood filler boxes and sponges.
Our spray is packed full of natural ingredients such as Aloe Vera Gel, Salicylic Acid, Kawakawa Extract, Totara Extract, Kanuka Honey, Manuka Essential Oil; all promoting natural antioxidant, anti microbial, anti inflammatory, tissue regrowth, cleansing and rejuvenating properties.
At Organica we believe that every Kiwi should have access to an affordable high quality solution that isn't filled to the brim with harmful chemicals. We believe that having healthy skin leads to a healthier you, physically and mentally.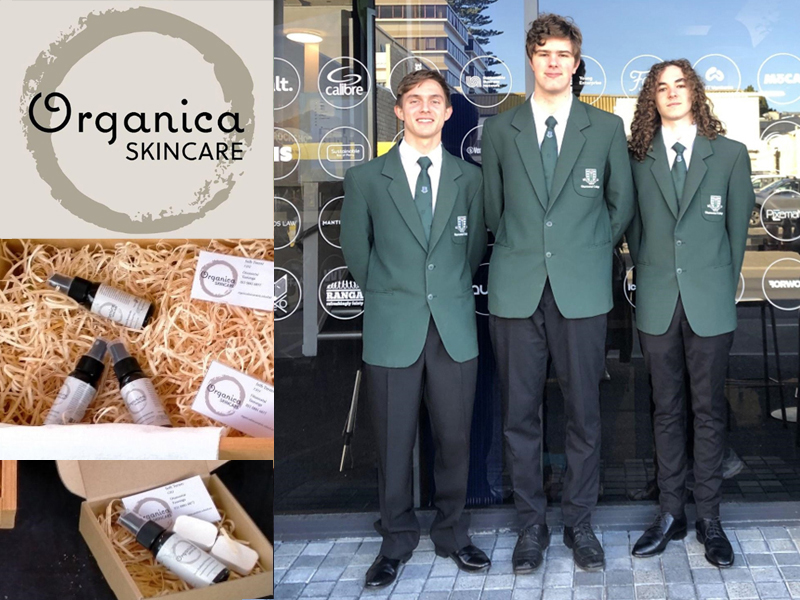 Fine Grindz – Sophie Edser, Dana Doyle, Lily Somerville, Tessa Grace-Kakau & Olivia Cleaver
Fine Grindz takes coffee grind waste from local cafes and repurposes it into an exfoliating body scrub. We noticed from working in cafes that a significant amount of coffee grinds are sent to landfills. In fact 18 million tonnes of coffee grinds per year are left to emit harmful gasses into the atmosphere.
Our body scrub has many benefits for the skin including, reducing inflammation and redness, improving circulation, tightening skin, and leaves you with a smooth glowing complexion.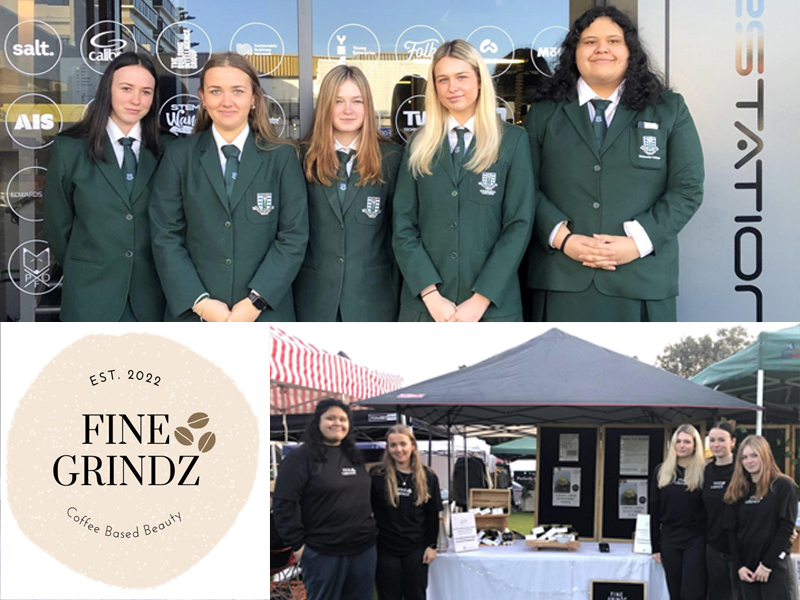 Backstitch – Chloe Davison, Chloe Boyt, Peter Colonna, Marc Lulu, Charlotte Robb & Alec Anderson
We at Backstitch want to make an actual change within the fashion industry. Our product, Threaddy Bear is a teddy bear which is constructed using 100% recycled fabric offcuts.
A QR code printed on Threaddy Bear's packaging leads the customer to our website, which includes further information and resources about sustainability in the fashion industry.