Waikato Young Leaders Day – Year 9
Fifteen of our year 9 students participated in the Waikato Young Leaders Day yesterday at Waikato University.
They heard some inspiring stories of what real Leadership looks like, by a wide range of individuals in the Music Industry, the Police and more. Many of the students commented on the difficult pathway it took for them to reach their goals. It also clarified for some what they wanted to do with their journey and how they might go about achieving these goals. 
They also had the opportunity to unpack what leadership meant to them with an amazing team of facilitators in the Faculty of Education.
From the back row: Left to Right. Catelyn Evans, Anna Hays, Ben Hawkes, Edward Webb, Lize Terblanche, Oscar Downard, Jayden Dent, Delamare Langton, Jaymin Corn.
From the front row: Jack Brown, Holly Sanders, Dilsher Kaur, Edyn Tukaki, Holly Inglis-Collis, Jenna Salgado.
Move Your Butt June Challenge
We joined the challenge offered by our Form Teacher (Mrs Whyte) to raise money for the NZ Bowel Cancer Foundation last June.
The task was to raise $500 and walk the length of the North Island. The Bowel Cancer Foundation asked for people to get moving, and in winter that's hard! So we put our minds to it and joined the Teachers who were also taking part. 
Together, the four of us walked over 500km just by ourselves; turns out we walk around 3km a day just walking around the school! Our team raised over $6600 for the foundation, and walked over 3500km. It was an awesome experience that we talked about every day.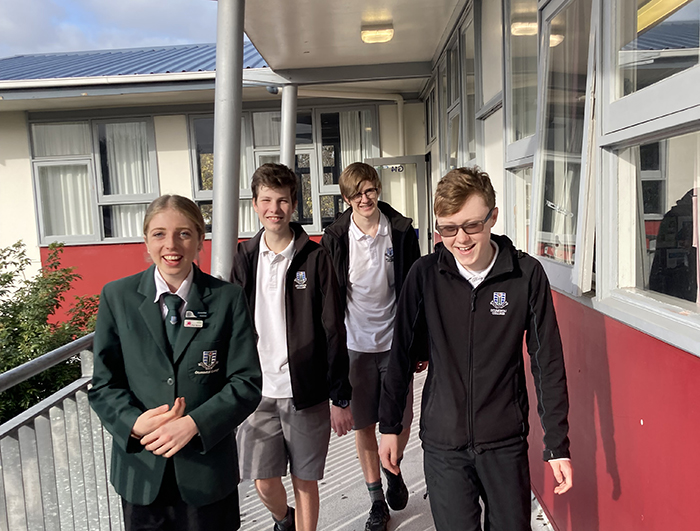 Sam Bainbridge, Joshua Knill, Cole Jackson & Kelsey Brosnan.