Peter Blackwell Cup Winners
The two sides came into this traditional fixture with good results and strong performances. Both sides had been unbeaten in Division 1, round 2.
Mount Maunganui College laid down their challenge with their school haka which was accepted and a challenge thrown down immediately by the our band of brothers.
Thanks to Mr Bobby Ketu, the new school haka was performed with pride and set the scene that this was our home, this was our cup and this was our time.
From the moment the whistle blew for kick-off the forwards controlled the game in all areas. All eight were instrumental in keeping us on the front foot but a special mention must go to captain, Nico Brown for a faultless display at No.8. Te Ariki's kicking game continuously enabled us to make yards and attack Mount Maunganui Colleges line.
The back line was impressive in defence and shut down any real threats the opposition had and pounced on any opportunity they had to attack.
Today was a demonstration that Baa Baa's 1st XV are becoming a team who can play with skill and tactically implement a plan that the coaches set alongside the players. – Ian Ridgway and Bryce Lawrence.
It was tremendous to have so many staff and students supporting the First XV yesterday. It makes a real difference to our players and they certainly lift their performances when playing at home in front of whanau, friends, students and staff.
A big thank you to Russell for supporting our team throughout the game and for presenting the cup at the end of the fixture.  We also thank Ian Ridgway who was filling in for Bryce Lawrence.
Thanks to Moss for the video footage https://youtu.be/PGXmw7EWoLc.
Chloe Boyt – Synchronised Swimming
Please join us in congratulating Ōtūmoetai College year 12 student Chloe Boyt, for representing New Zealand at the Fina World Championships in Budapest. Chloe was part of a team of 11 athletes that made up the Aqua Ferns Artistic Swimming team.
The team started with a pre-worlds training camp in Dubai and then moved on to the event in Budapest. Unfortunately, several of the team contracted covid in Dubai, so they were unable to compete in 3 of their 4 events, but managed to get enough athletes well enough for one of the later events. The covid impacted build up and swimming against professional athletes, meant the results were not what they were hoping for, but this is a young team with an awesome future. Chloe was also selected to hold the New Zealand flag at the closing gala.
Chloe has pursued her sporting dreams alongside her school work and we recognise her awesome achievement at such a young age.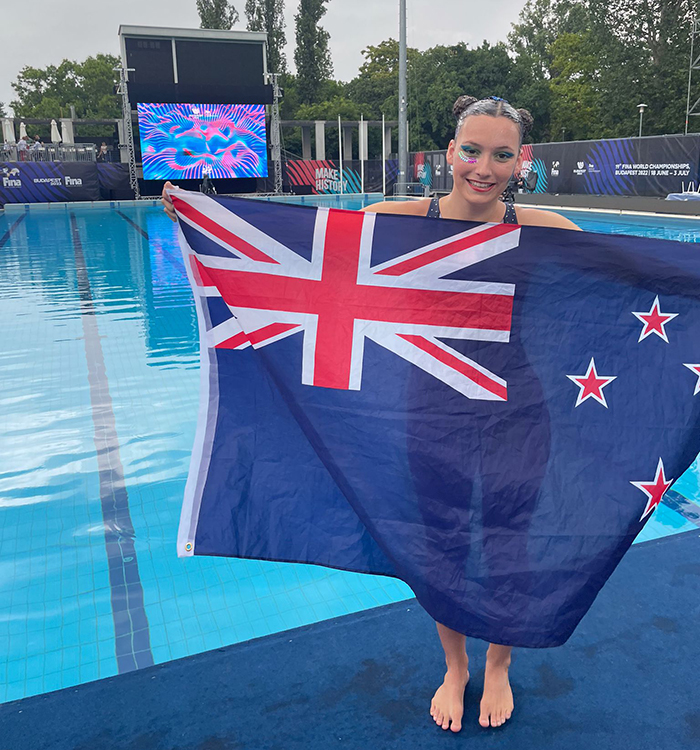 Tauranga Hockey U18 Women's Hockey Representatives
Congratulations to Ōtūmoetai College students (left to right) Rachel Wahab, Ayla Johnson, Brooke Comeskey & Neisha Moore (Captain) for their selection into the Tauranga Hockey U18 Women's Representative team.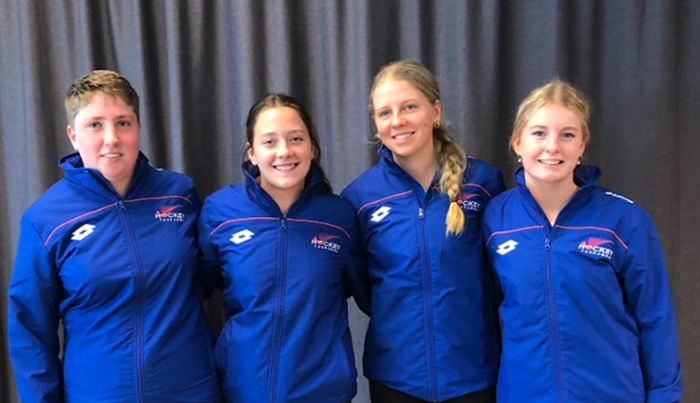 Netball Games – Premier 3 & Junior 2
The Prem 3 netball team is starting to play like a team and for the first time all season all 11 players were available to play. The theme of this season so far has been trust. If a player does not trust everyone on the team, including themselves, to catch the ball every time it is thrown to them and then pass it on successfully, then the team will not be successful. Finally, this is starting to reflect in the attitudes and performance on court. Although, it is still not reflective of the potential this team has.
In the first quarter, after 2 minutes we were up 2-0 then it turned to custard so at the end of the first quarter (now down 2-7) my instructions to the team were everyone take off their bibs and put them on the ground. After a complete shuffle, we were ready to start again.
Second quarter the team's true ability started to show through and by the end of the quarter we were up 12-10. Another team shuffle (purely due to the number of players in the team) and to my delight the team all came together as one and showed Tauranga Girls' College what they could do.
By the end of the third quarter we were up 22-14 and the excitement of all of the team was high (we have only won one other game this season and only by one).
Final quarter and Tauranga Girls' came back a bit but it was too late and we won with the final score of 27-20.
Hopefully the momentum of two wins in a row will continue in the second half of the season. Player of the day = all of them played their own best game of the season and showed what they can do when they trust everyone in the team.
Prem 3 team: Jessica Hood, Shayvaughn Hotene-Marks, Brooke Beauchamp, Kate Amundsen. Bella Harris, Bailee Traynor, Emily Aldridge, Rosanna Kember, Maddy Jolly, Mackenzie Lock and Chloe Ward.
– Kim Schumacher, Coach
Junior 2
On Friday 1st July, Ōtūmoetai College junior 2 netball team versed Papamoa college junior development team. It was a tough game, with the Papamoa defence not letting us bring the ball down the court. Unfortunately, after our successful winning streak, I am disappointed to report our first loss of the season.
We dominated in the first quarter, up by 12 goals. Our defence were getting many intercepts and bringing the ball down the court.
During the last half of the game we failed to maintain good connections and fluency with the ball and the opposing team overtook the score. We just seemed to lose our flow as a team. We were struggling to convert intercepts, and get the ball into the shooting circle. The ending score was 35-20 to Papamoa. The bright side of this is we can make some goals to work on in training and improve our performance and tenacity for the next game.
Junior 2 team members – Zahrea Barkes, Sofia Bostock, Bebe Campbell, Piper Emery, Victoria Geck, Mae Hine, Mia McGrath, Alexia Thomas, Kaelyn Timms and Sophie Vanderpoel.