Synchronised Swimming Stars
Tauranga Synchronised Swimming Club have some great news to share in regards to Ōtūmoetai College students, Jersie Ottaway and Chloe Boyt.
At the beginning of the School holidays, the New Zealand Artistic Swimming National competition was held in Invercargill. Tauranga was represented by some of  our Athletes who trained for the year leading up to the competition, some as many as 14 hours per week.  Chloe and Jersie were selected to represent Tauranga.
The following is the event entered and National placing:
Jersie Ottaway: Aquarina Combo Gold.
Chloe Boyt: Junior Duet Gold, Junior Team Gold, Junior Open Team Gold.
This is an incredible achievement, and the Athletes dedication and abilities to compete at this level is a noteworthy accomplishment.
They usually sacrifice the ability to participate in other sporting or interest groups as this level requires up to 4 days per week swimming for most. As such, they usually don't get the chance to participate in School Sports teams as an option.  
Congratulations and well done to Jersie and Chloe! 
Student Sport Achievements
NZSS Cycling – Alex Rawlinson
Alex took 6th place in the U17 Road Race and 6th in the Points Race at the New Zealand Secondary Schools National event at Fielding, Manawatu.
NZSS Canoe Slalom – Eva Guccione, Paige Martley & Ashton Blair
Day 1 results:
Eva – Senior C1W First place
Ashton – Senior C1M Runners up
Paige – Intermediate K1W 6th Place
Eva & Paige – Senior C2W 3rd Place
Ashton & Harry (St Peters) – Senior C2M 5th Place
Day 2 results:
Eva – Senior K1W 4th Place
Ashton – Senior K1M 9th Place
Eva & Ashton – Senior C2MX Runners Up!
Paige – Intermediate C1W 5th Place
Underwater Hockey – Mid Northern U18 Team
Edie Jackson Yr 9 and Ameerah Wilson Y 12 have been selected for the Mid Northern U18 Underwater Hockey Team. They will be playing in the U18 NZ Zonal Tournament in Wellington 21 – 24 of October.
They will be playing against 5 other NZ regional U18 teams. During that time there will be scouts selecting for the NZ U19 and U23 teams to play at Worlds in Turkey in 2024. All games will be live streamed on the NZUWH You Tube channel. Here's the link: https://www.youtube.com/channel/UCqYn1R_b5j3wSrSqrWGlHxg
Congratulations to all students!
Our students William Dunn, Hamish Boyt and Isaac Allan are competing this weeked in the challenging Sotheby's International Realty Whaka 50km event in Rotorua.  
Entries are overflowing this year with 1,200 riders competing over the gnarly 51km course which includes 1258m total climbing! – Good luck guys!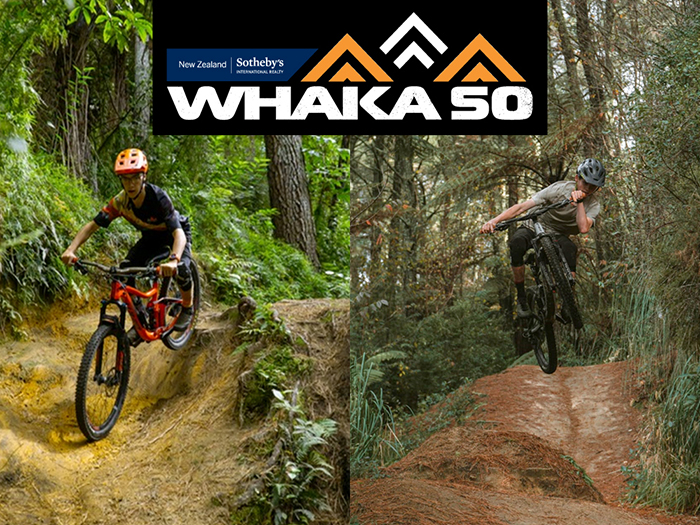 BOPSS Junior Beach Volleyball & Tennis Champs
The BOPSS Junior Beach Volleyball Champs are being held on Wednesday the 16th November 2022 at Main Beach, Mt Maunganui. Ōtūmoetai College will be taking a team. We will travel over for the day in the school van.
If you're keen to attend, please fill in the registration form below. 
https://forms.gle/986kGnGFyhdPKHTk7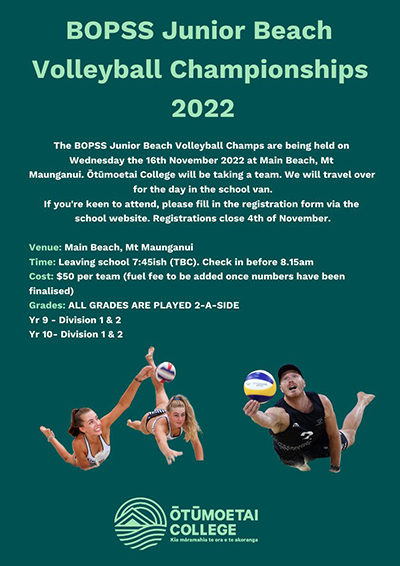 The BOPSS Junior Tennis Champs are being held on Friday the 18th November 2022 at Rotorua Tennis Club. Ōtūmoetai College will be taking a team. We will travel over for the day in the school van.
If you're keen to attend, please fill in the registration form below. 
https://forms.gle/frKmhoy5Lfb2mvno8