Interested in the Rotary Youth Exchange Programme?
Next year Rotary Youth Exchange Programme restarts.
Rotary Youth Exchange Basics:
Northern Hemisphere students will exchange into NZ in July 2023.

Kiwi students will be sent abroad in January 2024.

The Rotary International Youth Exchange programme is a 1 year exchange designed for students who will be aged 16 or 17 in the January of the year that they leave New Zealand.

Prior to COVID, every year about 40 to 50 students leave New Zealand in January to spend a year living in another country, learning the language and culture of that country and attending school there.

They generally live with 3 or 4 host families and are hosted by a local Rotary club.

Almost invariably when they return to New Zealand the following January they are more confident, independent and mature and with a greater understanding of how other people live. They have also made friends with other students from around the world.

To go on the exchange students are required to apply through a local Rotary club (applications close in late February 2023), attend a further interview and selection process by the District Committee responsible for administering the programme and then take part in a series of orientation days. This process ensures that the students are well prepared for their year away and that they will be good ambassadors for New Zealand.
If anyone is interested see Mrs Brown.
Graeme Dingle Foundation Awards
Huge congratulations go to Ōtūmoetai College Year 13 student Eva Karena, who was recognised at the the Graeme Dingle Foundation National Awards for her "Outstanding Contribution from a Peer Mentor" in their Stars Mentoring Programme. 
This brilliant initiative provides Year 13 students with the opportunity to support and motivate Year 9 students throughout their first year at secondary school.
We are very grateful to Eva for her contribution to school life and proud of her fantastic achievement!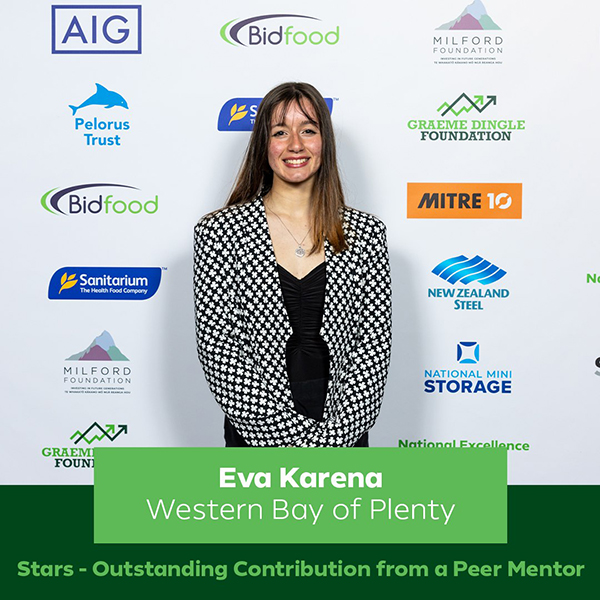 Charity Night – The Vicar Of Dibley
On Wednesday the 30 November Te Puke Repertory is hosting a Charity Night during the upcoming season of their production of The Vicar Of Dibley.
75% of the ticket sales will go to The Graeme Dingle Foundation. By helping our young people build resilience, self-belief and life skills, the Foundation's programmes empower them to succeed and overcome life's obstacles.