Environment Group Matua Clean Up
In support of Sea Week (4th -12th March) nine members of the Environment Group went to the Matua walkway to pick up plastics and other rubbish that might end up in our ocean.
On our way back to school for lunch we noticed all the rubbish near Ōtūmoetai College under and behind the hedge. So, the group went out again after lunch. 
The photos show the result of their efforts.
A huge thankyou to Cindi Lett, our Star Co-Ordinator, for her fantastic support.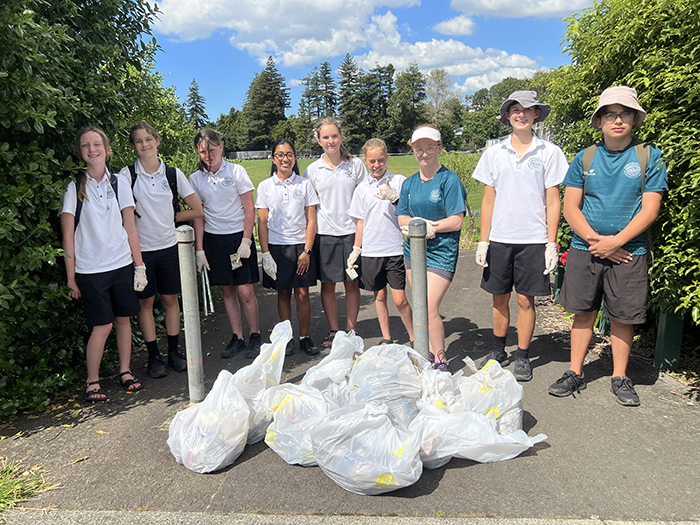 World Robotics – Please help send our Team
Please help send Ōtūmoetai College to the World Robotics Championships in Dallas!
Let's bring home the World title for a fourth time!
Ōtūmoetai College Robotics has two teams that have qualified for the World VEX Robotics Championship after coming in second place during a very competitive tournament in the New Zealand Nationals Tournament over the weekend of the 17th, 18th and 19th of February 2023. We are immensely proud of our achievements, and we are eager to represent our country on the international stage. Over the past decade, our club has proven to be a formidable competitor in the world of robotics, having earned the title of world champions three times (excluding the past two years, which were impacted by the COVID-19 pandemic).
However, in order to attend the tournament and represent our country, we need sponsorship to cover the costs of sending over 8 students and 2 adults. The budgeted cost to get them all there is $70,000 NZD. We have so much to raise in such a little amount of time. Please help get these incredible kids to the world championship, to bring home the title for a fourth time! 
https://givealittle.co.nz/cause/otumoetai-college-to-world-robotics-championships
Parents & Whānau, we need you for our annual charity "give back" day.
Firewood Day is Sunday 2nd April 2023, 332 Joyce Road, Good Neighbour Depot, 8.30am – 1pm – rain or shine.
7.45am – Meet at Ōtūmoetai College Action Centre, depart at 8am.
Parents that live close to the Depot can meet us directly there. Arrive at Good Neighbour Depot at 8.20am. Safety briefing by GOOD NEIGHBOUR at 8.45 am. Free BBQ at Depot at 12.30.
Wear closed in shoes, BABA's training t-shirts and BABA's jackets. Bring a drink bottle and gloves if you have them.
If you are interested in taking part please email Richard Brown with your details rbrown@otc.school.nz