Sailing – BOP Secondary School Teams Regatta
Write-up by Carmen Green:-
"We went out on the water with a bit of breeze, not as much as we'd hoped but it was enough. As the race committee and patrol boats laid the course our team strategised together to come up with a plan for our first race of the day against Tauranga Boys College. After tough gybe battles and mark traps, the Ōtūmoetai/Katikati team crossed the line first, second and sixth meaning we won the race!
The second race of the day we didn't have a good start and lost to Mount College. The rest of our races against Tauhara College, Taupo-Nui-A-Tia and ACG were triumphs and we won them all. By the end of the day we were tied with Tauranga Boys College with four wins and one loss each. The wind was dying out and there was only time for one final race – a final between Ōtūmoetai/Katikati and Tauranga Boys College to decide who would take home the trophy.
It was a tough race and unfortunately Tauranga Boys College took home the win which was well deserved. We were still stoked with a second place and had a great day out on the water."
Write-up by Mr Watson:-
Last Tuesday 14th March Ōtūmoetai College combined with Katikati College to contest the Bay of Plenty Secondary Schools Team Racing Yachting Regatta. This is like the America's Cup (which is a match race) times three with three boats from each school trying to get to the line first. Seven schools were represented at the event, some from Taupo, ACG, Tauranga Boys and the Mount.
Our first race was against Tauranga Boys College and was one of the best races of the day with the lead changing several times. Ōtūmoetai managed a tight three point victory. Mount College then caused a bit of an upset by beating us by nine points. This meant that at the end of the day only two teams had one loss – a sail off between us and Tauranga Boys College. Unfortunately the wind by now was very light and shifty. Tauranga Boys College beat us and hence won the competition. The students in the Ōtūmoetai College team were Miya Prescott, Carmen Green and Mitchell Butts. A big UPS to Miya, the team captain. She sailed fast all day and led the team well. She is only Year 11 so I am expecting great things next year.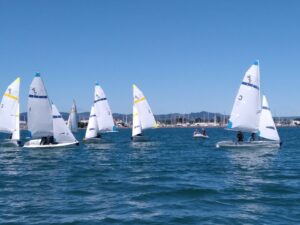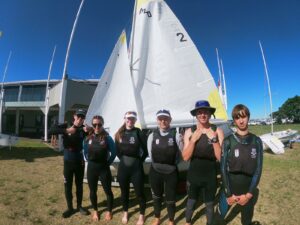 BOP Secondary Schools Senior Volleyball Champs
OAT's Senior A girls finished bronze medallists in the Bay of Plenty Secondary Schools Volleyball Champs held over six days in the last few weeks. The team made the top 8 from section and post section play and won their quarter final 3-0 against Trident and then lost the semi-final 3-1 to Whakatane. In the play-off for 3rd and 4th, they beat Tauranga Girls College A (3-2) 15-13 in the 5th set after losing the first two sets.
The B team finished 19th, the Junior A 26th and the OAT's C team 30th out of a 34 team competition. The A's and B's now head off to the New Zealand Secondary School National Championship in Palmerston North next week.
Bay of Plenty Senior Tennis Champs
Ōtūmoetai College sent a team of six senior students to compete in the BOP Secondary School senior tennis championships on Wednesday 15th March. The students were Angus Colquhoun, Joseph Jobe, Lachlan Shefferd, Neeve Wilson, Dhruvi Patel and Lucy King. The tournament was played at Papamoa's Gordon Spratt Reserve with hot conditions to contend with. Our players represented themselves and the school well and came away with some good results.
Angus Colquhoun – 3rd Senior Boys Division 1
Neeve Wilson – 1st Senior Girls Division 2
Lucy King and Dhruvi Patel – 1st Senior Girls Doubles Division 2
Thanks to Mianna Laing from the Sports Office for her support in taking the students on the day.
Sam Loudon – TiC Racquet Sports
Mountain Biking – WaiBOP Secondary Schools Cross Country Champs
The following students competed in the WaiBOP XC Champs at Te Miro MTB Park, Waikato on 15th March – Isaac Allan, Dylan Beca, Hamish Boyt, Zandru De Bruin, William Dunn, Marshall Flint and Jack Swift. Results from this competition were:-
U15 – Dylan Beca (9STT) came 4th
U17 – Isaac Allan (11DVC) came 4th and Hamish Boyt (12TNG) came 5th
Well done to all competitors!
Athletics – Ōtūmoetai College
We had a great day at the Waikato BOPSS Athletics day on Tuesday at Porritt Stadium, Hamilton (despite the torrential rain).
We took seven athletes who all placed in the Top 6 of their divisions at the BOPSS Champs to qualify.
Special mention to Charo Heijnen who placed 3rd in the Senior Girls 3000m and 3rd in the Senior Girls 1500m. Ingrid Stripling who won the Junior Girls 200m and got 3rd in Junior Girls 100m. Georgia Cook 1st in Junior Girls High Jump.
They have all qualified for the upcoming North Island Champs to be held in Palmerston North on the 1st and 2nd of April.
BMX Success for Ōtūmoetai College Year 11 Student
Year 11 student, Hannah Mason competed in the BMX New Zealand National Champs in Tauranga over the last weekend. She races in the 16 year Female category over two days. There were 6 motos and a final where she finished in 2nd place gaining another NZ2 ranking to match last year's performance. Her main rival being the World Champion from Cambridge. The two girls lap times were incredibly quick which put them into the top four finishing times of the weekend (Female category) including Elite Women.
The National Champs attracted nearly 600 riders from across the country and was held at the Tauranga BMX track on Cambridge Road.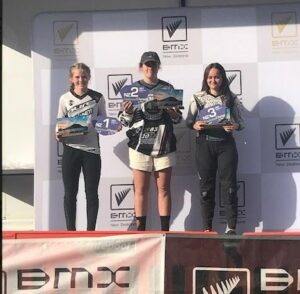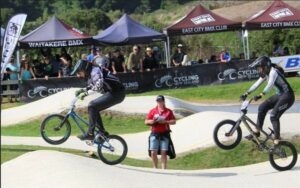 Hockey Trials
Junior girls – Monday 27th March – 5.30 – 7.00pm
Senior girls – Tuesday 4th April – 5.30 – 7.30pm
All boys – Monday 3rd April – 6.00 – 8.00pm
The registration form is available on the school website – Sport – Sports Codes – Hockey. Any queries to Abbie Johnston (abbie.johnston@hotmail.co.nz)
Good luck to all students competing at a New Zealand Secondary School tournament in the coming week!
Enjoy the experience!