Sports Office Legend – Paul Braddock
Last week we farewelled Paul Braddock after 19 years in the Sports Office, most recently as Director of Sport.
Paul is a highly valued colleague who has dedicated many years to improving the college sports programme with a passion and a commitment to student success and inclusion envied by many of his peers.
Throughout his tenure, he has overseen numerous successful seasons covering different sporting codes and has been instrumental in the development of many student-athletes who have gone on to achieve great success in their respective sports. 
With a deep understanding of the college's values and a wealth of knowledge plus a wide circle of proactive community members, Paul Braddock is a beloved figure around the college and a respected leader in the local Ōtūmoetai and wider Tauranga community.
We wish Paul every success as he takes up a new position with Volleyball Bay of Plenty and he transitions into a single sport environment. Thank you for your positive attitude, valued support of colleagues and students, unflappable team spirit and willingness to give your time unreservedly and access to resources for the betterment of everyone who wants to play sport.
Your colleagues in the Sports Office will miss you but we are super excited to see you take the reins of a sport with such huge potential and see how you develop it further for the continued enjoyment of all.
Kia kaha my friend
On Friday 5th May,  Mr. Paul Braddock finished 19 years of working in the Sports Department of Otumoetai College to take up the position as General Manager at Volleyball Bay of Plenty.
An icon of the College, he was farewelled in a moving ceremony in the Performing Arts Centre at the College by students, staff,  coaches and managers of the multiple sports teams that he has been associated with, during his tenure at the College.
He started at Oats as a sports administrator and soon assumed the position of Director of Sport putting his stamp on the position, carrying out the multitude of tasks required in his enthusiastic, hands-on approach.
Paul's cheerful, empathetic character will be sorely missed at the College, particularly by the students and the staff he worked closely with, but he will not be lost to the Bay and Tauranga in his new role with VolleyballBOP.
We wish him well in this new stage of his life!
Stewart Henderson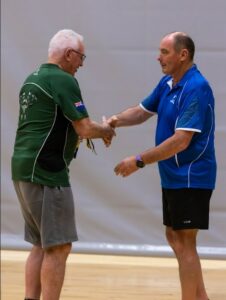 Ex-student achieving on World Stage
Blake Miller, a 22-year-old ex-Ōtūmoetai College multisport athlete from Tauranga, recently achieved a remarkable feat by becoming a double world champion at the 2023 World Triathlon Multisport Championships in Spain. Within a span of three days, he secured victory in two different events. He first won the men's 20-24 age-group Aquathon title on Monday, and then followed it up by claiming the men's Sprint Duathlon crown on the previous Saturday.
Speaking about his success, Miller expressed that he had no expectations of winning a medal at the 12-day, seven-discipline championship. He was uncertain about his fitness level coming into the event and approached it with a mindset of giving his all and seeing where it would place him. Despite not expecting a medal, he was content with his performance.
During the duathlon, which consisted of a 5km run, 20km bike, and 2.5km run, Miller revealed that he faced tough competition from other athletes. Initially, he was positioned around 10th in his wave during the bike portion but managed to settle in with a group of seven competitors. However, he admitted that all of them outran him during the biking phase, despite them being mostly older than him.
In the aquathon, Miller mentioned that there was an athlete ahead of him by approximately a minute after the swimming segment, and he had to chase him down during the run. He successfully closed the gap and emerged victorious.
Looking ahead, Miller shared his upcoming plans. He is set to participate in a standard distance triathlon in Morocco, followed by a sprint distance triathlon and the African Aquathon Championship in Egypt. Subsequently, he intends to spend five to six weeks in the UK for intensive training before heading to Germany for the Sprint Distance Age Group World Championship.
When asked about his strengths as an athlete, Miller replied that he doesn't believe he possesses a specific strength. While biking was strong for him during his school years, it suffered a bit during his time at university. He considers himself a well-rounded triathlete.
Miller mentioned that he will be turning 23 by the end of the year, marking his last year as a classified junior athlete. He expressed his goal of advancing to the elite categories and competing at the Townsville event in Australia the following year, which he considers to be on par with his current level of competition.
Throughout his journey, Miller has been coached by Chris Willis since the age of 17, and Willis has been guiding him even before that. Miller appreciates the close relationship and understanding he shares with his coach, describing it as more of a friendship than a traditional coach-athlete dynamic. His parents and brother are also present to support him during his competitions.