Bay of Plenty Secondary Schools Cross Country
The BOPSS Cross Country Champs were held at Waipuna Park 22nd May. Our runners did extremely well on a wet course with multiple top 10 finishes! Special mention to Maia Basile who won the Year 9 girls race and Charo Heijnen who came runner up in the girls division.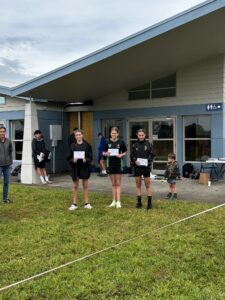 1st – Maia Basile – right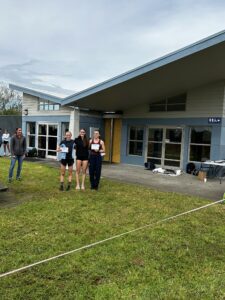 2nd – Charo Heijnen – centre
Girls Rugby – Associate Referee Course
Ōtūmoetai College girls rugby team attended an Associate Referee course held at Tauranga Girls College on Tuesday 23rd May. The course was run by New Zealand's Female Rugby Development Manager, Maggie Cogger-Orr and Tianna Ngawati, a local referee who was only the second female in NZ rugby history to referee a men's NPC game.
The girls had a awesome afternoon, they improved their knowledge of the game,connected with new people and got some free gear.
They will now be looking to referee some of the upcoming primary school events and AIMS Games later this year.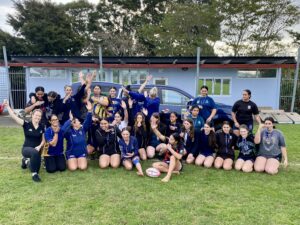 WBOP Junior Badminton Qualifier
On Friday 19th May, three junior teams competed in the WBOP Junior Badminton Competition. Our no 1 Girls team of Grace Spencer, Jasdeep Deol, Maisie Crawford and Elani Kinsella placed 2nd overall. This result has qualified the team for a BOP event later in the year. 
Our no 2 team placed 4th overall. This team was made up of Joanna Park, Mia Paris, Keisha Patel and Grace Gilchrist. 
Our Junior boys team placed 3rd in Division 2. The team was Delamere Langton, Ethan Rowan, Caleb Armit and Lincoln Hodge.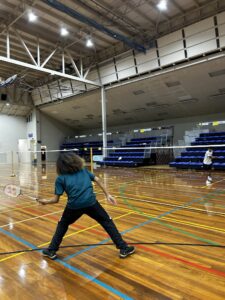 Delamere Langton
Sports Research Project – Do you want to be involved?
Do you like the idea of taking part in an important sports research project? If so, Anna Butcher, a Phd student from Waikato University needs you. 
A brief description of the research
Anna is aiming to better understand the movement changes that occur during different maturational phases and to determine when and how increased risk of ACL injury may be apparent from a biomechanical perspective. This information will be used to develop preventative training programmes to be implemented in high risk populations. 
Participant Requirements (7-18 Years of Age, Male & Female)
Participants will be required to attend a minimum of one and a maximum of two sessions at the University of Waikato Adams Centre for High Performance Sport and will get to use force plates, Inertial measurement units, 2D and 3D camera technology in a world class sports performance laboratory. We use 3D technology (similar to that used in movies such as Avatar) to create a virtual model which is used to calculate joint angles, moments, forces and more. Each session will take approximately 1.5 hours. Before testing, we will collect a few baseline measures (height, weight, age), menstrual cycle, maturation stage, and physical activity information.
If you are keen to be involved please email Anna directly or contact Mr Ridgway in the Sports Office.
Anna Butcher: annajbutcher@gmail.com
Mr Ridgway: iridgway@otc.school.nz