Ōtūmoetai Netball Holiday Programme
Ōtūmoetai College is running a Netball Holiday Programme during the Term 2 School Holidays! Book your kids in for a day of Fun Netball Activities and more!
Ages 7-13 years old. $30.00 per day. All proceeds will go towards supporting our Premiere Netball Team at their upcoming UNISS Tournament in Hamilton!
Monday 3rd of July: 8am – 2:30pm
Tuesday 4th of July: 8am – 2:30pm
Monday 10th of July: 8am – 2:30pm
Any questions, please contact our Teacher in Charge of Netball: Lara Richardson (lrichardson@otc.school.nz).
New Zealand Beach Volleyball Selection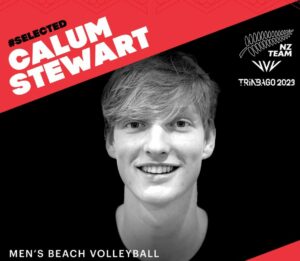 The New Zealand Olympic Committee has selected two local Bay of Plenty athletes to represent New Zealand at the Trinbago 2023 Commonwealth Youth Games. Otumoetai College student Calum Stewart and Juraj Krajci will compete in the men's category. These athletes, aged 17 and 18, have been chosen based on their talent and potential demonstrated during the New Zealand Beach Volleyball Tour and Age Group Inter-Provincial Beach Volleyball Championships held earlier this year.
The Commonwealth Youth Games serve as a crucial step in the NZOC's pre-elite pathway, offering promising young athletes a valuable development opportunity. Trinbago 2023 will feature a variety of sports and will be attended by athletes aged 14 to 18 from across the Commonwealth. Apart from the high level of competition, the event also provides access to educational and cultural experiences for the participating athletes.
It's exciting to see these young athletes represent New Zealand and showcase their skills on an international stage. They have worked hard to earn their spots, and their selection is a testament to their dedication and talent. Congratulations to Calum Stewart, and Juraj Krajci, and best of luck to the entire New Zealand team at the Trinbago 2023 Commonwealth Youth Games!
New Zealand Secondary Schools Gymnastics Competition
Ōtūmoetai College representatives, Andrejka Bennett and Adelle King performed well in their rhythmic gymnastics competition at level 7! Here are the notable placings for each of them:
Adelle:
Placed 6th in clubs
Placed 10th overall
Andrejka:
Placed 3rd in ball
Placed 5th in clubs
Placed 5th overall
It's impressive that their rankings in this competition closely align with their current rankings in the country. This suggests that they are consistently performing at a high level.
Additionally, both Andrejka and Adelle have qualified for Nationals, which is a significant achievement. Nationals invites only the top 20 performers from each level, so it's a testament to their skill and consistency. This year, the Nationals will be held in Tauranga during the July holidays.
Congratulations to both Andrejka and Adelle on their success, and best of luck to them in the upcoming Nationals competition!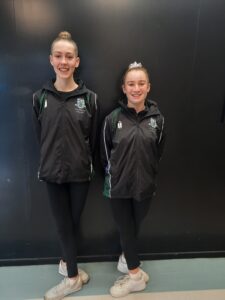 Adelle King and Andrejka Bennett
Ōtūmoetai College Girls Rugby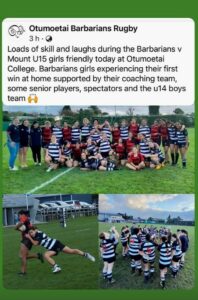 Bay of Plenty Secondary Schools Squash Champs
Recent results from the Bay of Plenty Secondary School Squash Champs. 
Results – Girls 
Grace Spencer (Yr 10) – 2nd place in Division One 
Neeve Wilson (Yr 11) – 1st place in Division Four 
Hope Kennerley and Emily Finlay also competed
Results – Boys 
Delamere Langton (Yr 10) – Consolation plate winner in Ungraded division
Bernardo Vilela Torres (Yr 10) also competed in the Ungraded division