Badminton – Bay of Plenty Junior Secondary Schools Finals
Grace Spencer, Jasdeep, Maisie and Elani managed to get 1st place in Division 2 with games against Whakatane 1 (lost) Whakatane 3 (win) Taupon (won) TGC 2 (won) and JPC (lost).
Grace Gilchrist, Mia, Joanne and Keisha won against Edgecombe, and TGC in their pool play but lost the Semifinal. They played off for 3/4th against TGC and won this so came 3rd in Div 3.
Big mention to Jade who came as our sub but played all day for Whakatane as one of their players did not turn up!!!
The boys had some tight games – winning against Edgecombe and Western Heights but going down against Tarawera, Edgecombe (higher team) and a strong Trident team.
North Island Secondary Schools Indoor Bowls Championships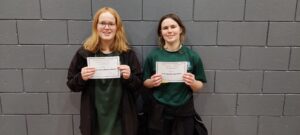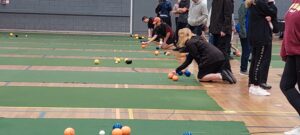 Anae and Kiera competed in the North Island Secondary Schools Indoor Bowls Championships on the weekend.
In the Pairs, they played well against some tough opposition, and managed to get through to the Final of the Plate round, where they came runner-up, scoring 9-5.
In the singles, Anae narrowly missed out by 1 point on qualifying for the main play-off event. Playing against the Junior champion from Manawatu, Anae needed 3 points on the last end to win, but got 2 for the draw.
Anae and Kiera are both looking forward to going to Auckland for the New Zealand Secondary Schools Indoor Bowls Championships in Winter Tourney week later this month.
2023 Tauranga Netball Centre Prizegiving
Tauranga Netball Centre would like to acknowledge the following Ōtūmoetai College students for winning the following awards at our 2023 Tauranga Netball Centre prizegiving:
Imogen Suttie Greatest Gains for U14A
Sophie Wiessing Greatest Gains for U14B
National Secondary School Squash Championships
This weekend is the National Secondary School Squash Championships, held on the North Shore. The girls first opponent is likely to be arch rival TGC. The matches are played over 3 days, with the finals on Sunday afternoon.
Our girls team are the 2 x defending champions of this event. This year they are seeded fourth, so will have to knock off a few higher ranked teams to defend their title.
The girls in the team are in playing order:
Erin Wylie
Grace Spencer
Hope Kennerley
Gen Kennerley
Mia Bowles
Neeve Wilson
Good luck girls!
Game 1 vs Kati Kati under 19's- First game of the season was away to Kati Kati for a 9.30am kick off in good weather conditions. The Oats lads played by far the better football throughout the match but was overpowered by a physical and rather large Kati Kati outfit. A missed penalty in the first half and a straight red card midway through the 2nd didn't help our chances and we ended up losing 4-1. 'Midfield destroyer' Ieuan Pope with the goal along with strong performances from Luke Muspratt and Till Lendeckel. 
Game 2 vs TBC senior B- Our first home game of the season on a fine brisk morning down at Fergusson Park. Thankfully the normally high winds stayed away and the sun began shining around the 8.30am kick off mark for what was bound to be a fantastic game of football! The Oats boys started really well, showing better link up play in the final third (something we worked on in the weeks training) with Hunter Bumby being a threat whenever he got on the ball. Unfortunately TBC managed to score with their first attack on our goal after a bit of sloppy defending from the boys. However we continued to attack the TBC goal and the pressure soon showed with Hunter managing to squeeze the ball past the keeper early in the first half. Locked at 1-1 going into the second half we continued to push for a winner but I did think to myself "is it going to be one of them days"??!! Thankfully we managed to bundle the ball into the net around the 80th minute mark and held on for a well deserved first win of the season! Stand out performances all round the park but most noticeably from Lochy Webb, Angus Colquhoun, and Hunter Bumby.
Game 3 vs TBC senior A- Coming in high off a win and after a weekend off to refresh the minds we headed to Southey Fields full of anticipation. The main focus was getting the lads to build on the improved momentum from the previous two games and keep up the relentless mindset that won us the previous match…. Otumoetai went on to lose 17-1! Yep you read right.. 17-1!!!! That's 1 goal conceded every 5 minutes 29 seconds! I had to think if there is a game that I have ever been a part of with a score line remotely close to that but there isn't. However, fun fact the largest football whooping in history was AS Adema 149–0 SO l'Emyrne, in 2002! At least we weren't that bad!! Two steps forward and 17 steps back for us and a Monday lunchtime crisis meeting.
Game 4 vs Trident- After stewing over the previous game for the entire weekend I can honestly say I didn't feel much better! But we had to look forward, fix our mistakes, and get back on track with a midweek game against Trident. After a fairly honest meeting on Monday we put the previous result well and truly in the past. 
This game marked the first of the season with us actually having a goalkeeper!!!! Joel Beets finally committed his services which relieved Jaxon Brett of his temporary keeping duties to play out field. I have already told Jaxon but I would like to take another opportunity to thank him for putting his hands up when no one else would! It is the hardest position to play on the field as you are often a hero or completely zero. 
On the game itself.. We had an in depth tactics session pre match to ensure everyone knew their role and what is expected. I demanded a change in attitude, willingness to win and fight their battles, and play with added intensity. The focus for this game… CLEAN SHEET! (every GK and defenders dream) That started from the back with Joel or 'Beetsy' leading from the back with volume and confidence. The back line was solid with better communication and awareness of their opponents on the field. Angus and Bradley Wiessing lead the line well winning headers and committing  to challenges, awesome performance by both! Our midfield struggled at first to get on the ball and play against a scrappy Trident team but their quality started to show after the first 15 minutes with Ollie Harris managing to create in the final third. 0-0 at halftime my message to the lads was the goal will come but we need to keep that clean sheet, not let the intensity drop, and keep competing for everything! We came out well deserved 3-0 winners. Definitely didn't set the world alight with our football playing but sometimes that doesn't matter in football. It's the effort and desire to win that sometimes gets you through! That's what I wanted to see and what we will take forward into the next game! 
Game 5 vs Bethlehem College- This was probably our most complete performance so far this season with both attack and defence playing extremely well! We played Bethlehem in pre season getting thoroughly out played across the park but I can quite honestly look back at this game and be proud of our growth as a team. Stand out performances from the game was Ben Wheatley, Hunter Bumby and Jake Milne who terrorised the Bethlehem backline creating chance after chance. After dominating so much of the game, 2-1 up with around 10 minutes to go, it was heartbreaking to see us concede two sloppy goals against the run of play. Definitely a performance to build on but need to make sure we punish teams when we get the chance and be defensively resolute in protecting the lead.
Game 6 vs Rotorua- I don't really want to go into too much of a write up on this one. Bitterly disappointed with the lads lacking the desire, commitment, and pride to represent their school. Out of a squad of 18 players only 12 of them made the trip over to Rotorua which goes completely against the culture I am wanting to build within this team. From the get go I could tell we were not on our game.. I have made a massive deal out of the intensity of our warm ups because every time we warm up well, we play well, and I can honestly say anyone watching us warm up would have thought the lads had just met for the first time. It felt like coaching a class of YR 9 students on their first day of secondary school. No communication. Balls flying everywhere. Headless chickens. Unfortunately during the game we rolled over like cute puppy dogs wagging their tails. Completely out fought, out battled, out desired. 
This was Tauranga senior A 2.0
Now it was only 7-1.. But it could easily of been 17-1 with a very wasteful Rotorua side. Two steps forward, 7 steps back, and ANOTHER crisis meeting.
Game 7 vs Katikati- With round 1 complete we welcomed Katikati under 19's to Fergusson Park! With everyone refreshed from the 2 week term holiday and the sun beaming down for a later than normal 9.30am kick off I was full of hope and anticipation. The previous game against Katikati resulted in a 4-1 loss where we played the better football but got out physicaled by the much larger outfit. Apart from the scoreline this game was EXACTLY the same. 3-0 defeat. 
Otumoetai dominated the ball in spells and created chances throughout the game but we were not clinical in front of goal and it didn't help that the posts acted as a 2nd keeper for the away side. The scoreline truly does not reflect what was a great team performance! Our stand in goal keeper Jaxon Brett did amazing in the sticks when called upon gaining my MOTM. Could of, should of, would of, comes to mind with the amount of missed opportunities! Finishing practice Wednesday!
Game 8 vs Tauranga senior B- Goals, goals, goals!!!! 7-1 win for Otumoetai. To be honest I actually missed 5 of the goals from writing down notes of things we needed to do better! Either way the ball went in the net which is much better than the previous week. It was very reminiscent of the red arrows watching the boys pass, move and fly in glimpses of free flowing attacking football! Unfortunately that style of football did lead to the boys neglecting their defensive duties at times and against stronger opposition could have led to us conceding more than 1. Either way it was 3 points in the bag! Hunter Bumby and Ben Wheatley again in the goals! I think we might be having a 2 way competition for this year's golden boot!
Game 9 vs Trident- An absolute scorcher of a winter's day down at Fergusson Park with the sun beaming down and the cold morning frost nowhere to be found! The lads got a sleep in with a later than normal 9.30am kick off so moral was definitely high for this one and there was one or two less bed heads (Apart from Jake Milne of course)! The main point I wanted to make before the game today was not to underestimate Trident. Although the previous game was 3-0, we had to battle extremely hard for the win.
Today's aims: 1. Play them off the park 2. Full backs get high, wide, and demand the ball 3. Use some of the set pieces that we worked on in training.
With Ben Wheatley absent due to his Business marketing assessment this gave Hunter Bumby a perfect opportunity to try and get some more goals in the race for top scorer. He combined with Logan Castles to finish off one of our training ground set pieces! 1-0! The 2nd goal came towards the end of the half with one of my favourite goals this season with the same two players combining again. Trident looked to play the ball out from the back and after a heavy press started by Hunter Bumby being backed up by Logan Castles we forced them into a mistake. Logan managed to knick the ball off their midfield about 30 metres from goal and still with plenty to do managed to drive to the byline and slide the ball past the Trident keeper! 2-0 up at halftime.
Throughout the game our defence was outstanding working as a unit and dealing with the Trident constant longball bombardement! Big Brad Weissing and Angus Colqhoun being dominant in the air and goalkeeper Rhys Manning marshalling off his line. Olly Harris a stand out performer in the midfield with his spacial awareness and willingness to get on and keep the ball in tight spaces. Luke Muspratt with a brilliant 2nd half getting forward from fullback as asked and helping add more intensity to our attack! 
Somehow we manage to thrive in pressure situations and make careless mistakes when we have time. We are so so so close to playing fantastic football! 2 more games and I think everything will click! Big defensive test next week… TBC senior A (17-1).. Time to gain back some pride!
Follow our College Sports Instagram page for Fixtures, Results and more…