On 31st July, four Ōtūmoetai College Robotics teams took to the field for their Kiwibots 2021/2022 season opener hosted by Onehunga College in Auckland.
Many other club members and parents who weren't competing, attended the event as spectators and supporters.
The event saw 23 teams from the upper North Island competing to be the Scrimmage event winner.
Playing in black and green, teams 'X', 'A', 'B' and 'G' left OTC at 6am ready for a 9.30 start of the season's theme game 'Tipping Point'.
For the qualification rounds, teams are partnered with another team – chosen by the hosts – to form a 2 vs 2 combat. Teams then move forward to a knockout where they can select their own alliances.
Team B had a good building session on the day and managed to compete well but didn't quite make the playoffs, so going in to the knockout, three Ōtūmoetai College teams were in the running. Team G chose Team A as their alliance partner, but they were eliminated in the quarter finals. Team X made an alliance with Kristin School, Auckland, and took out the top spot, the first time an Ōtūmoetai College team has won a Scrimmage since the 2019/2020 season.
This is an incredible achievement given this is a year 10 team with one member only joining this season. Their robot was extremely reliable and Ōtūmoetai College has made a strong start to the season. They'll be the team to watch this coming year.  – Written by Sarah Aldridge (Robotics Committee)
Main photo: Teams G and A (left) versus Team X and Kristin School (right) in the first quarter final.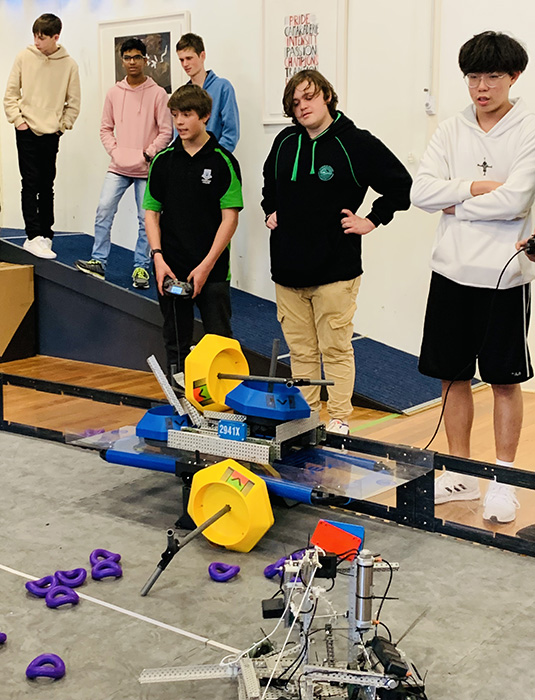 Team X's Max De Spong and Jaime Venman with their winning robot in the final.