Young Innovator Awards 2021 Workshop & Results
Young Innovator Awards creates tomorrow's innovators by offering a hands-on, learn-by-doing experience. They challenge students to come up with a unique innovation that will make the world a better place. The best entries, as judged by top innovators in NZ and abroad, win internships at leading innovative businesses in the Bay plus cash prizes up to $2,000.
Congratulations to the following Ōtūmoetai College finalists: Noah Douglas, Antoni John, Reco Quaife, Nrusingha Rath, Liliana Smith, Lilyan Son, Faith Harris, Mathew Schumacher, Sarah Bryan, Maddy Duncan, Rhea Lal, Paige Martley, Sharne Wilcox, Rosa Sharp, Dominik Bennett, Victoria Geck, Genevieve Kennerley, Estee Taylor, Kobi Notman, Raven Howard, Khyang Khyang Chowdhury, Abby Duncan, Charlie Minshall, Beatrice Proverbs, Thomas Wigley, Tomás Andrew, Amelia Shorter, Cleo Putty, Erin Walpole, Haylee Hextall, Charo Heijnen, Robert Unsworth and Sarah Latus.
Students did an amazing job completing their submissions. A big thank you to the following science teachers: Sally Price, Sarah Hudspith,  Mark Simpson, Simon Sheppard and Nicola Hawkes – your continued support is greatly appreciated by our students and myself (Ceri Blears Woodcock). Fantastic mahi everyone!
On Tuesday October 26th, our finalists, myself and Mrs Price attended the YiA workshop at the University of Waikato in Tauranga with two of the leading lights of the Tauranga Moana innovation space, Priority One/University of Waikato's Shane Stuart and Ara Rau – Pathways to Work's Jay Tihema. 
Students were challenged to work as a team to innovate either a school backpack, a physical classroom or an online learning space using the design thinking model.
Ideas and creativity were the key themes with a focus on functionality, likes and dislikes of current solutions, extra items that could be included and thinking around other ways of functionality i.e. concept design. In collaboration with peers, students brainstormed, designed, presented to their audience, listened to and used feedback to improve their innovations.
2021 RESULTS
On Thursday, October 28th our finalists attended the awards evening held at Classic Flyers. Congratulations to the following students:
SENIOR 
Third Place: Bell Badge
Robert Unsworth (pictured below) – To create a device that will act as an alternative for school bells.
Robert also won the People's Choice Award.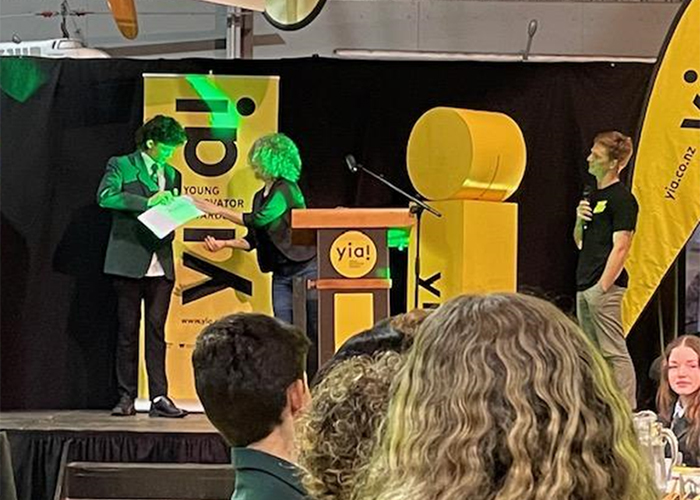 JUNIOR
First Place: Networx
Amelia Shorter, Cleo Putty, Erin Walpole, Haylee Hextall.
A tracking device that attaches to fishing companies nets that connects to an app helping them retrieve the net if it is lost. Prize: $1000 plus valuable internship experiences with some of the Bay's top innovative businesses.
Networx also won the Research Award.
Second Place: Simply Positive
Victoria Geck, Genevieve Kennerley, Estee Taylor.
To provide a free and effective app on Mental Health. Prize: $750
Simply Positive also won the Social Impact Award.
Third Place: Treasure our Trees
Thomas Wigley, Tomás Andrew.
An app that pinpoints and notifies the community of possible positions of kauri dieback or myrtle rust by logs on phones. Prize: $500
Treasure our Trees also won the Sustainability Award.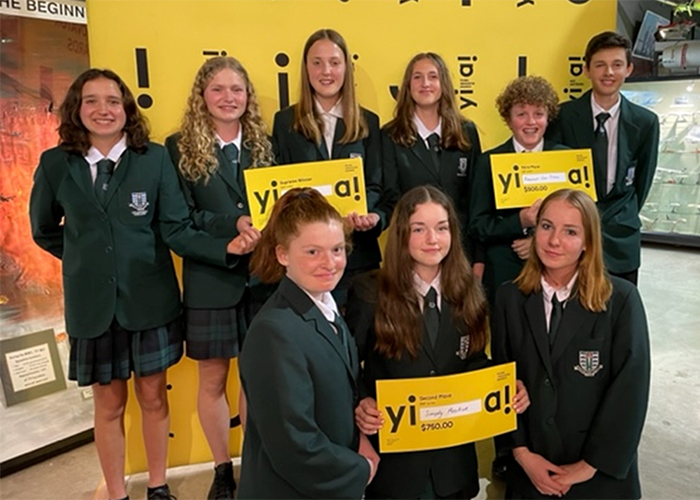 Back Row: Cleo Putty, Amelia Shorter, Erin Walpole, Haylee Hextall, Thomas Wigley & Tomás Andrew. Front: Victoria Geck, Estee Taylor & Genevieve Kennerley.
StallD
Sarah Bryan, Maddy Duncan (pictured below).
To make an app that pinpoints local fruit stalls to save time, save money, support locals, and reduce wasted food.
StallD won the Social Impact Award (Highly Commended).
Tauranga City Council were so impressed by the quality of the entries from Simply Positive and StallD that they invited Sarah Bryan, Maddy Duncan, Victoria Geck, Genevieve Kennerley and Estee Taylor to work with them on projects.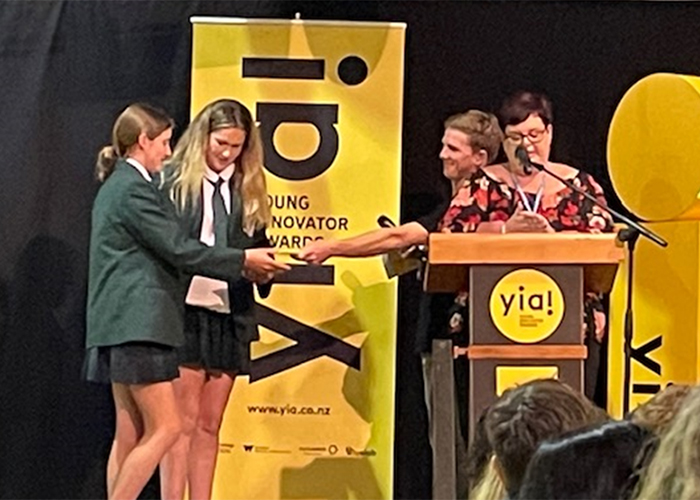 Ōtūmoetai College Robotics Club Face Mask Sale
Masks are $7.50 each or 3 for $20. All profits go directly to the renovations required for the Clubs new room.
We can ship your masks anywhere in NZ for $4.50. If you would like this option please add $4.50 to your payment.
We are continuously updating patterns and sizes, please keep us in mind for future purchases.
This endeavor is run by volunteers from our club.  We are trying our best to manage availability of patterns and sizes however we may need to get in touch if an item has become unavailable. 
Thank you for supporting Ōtūmoetai College Robotics Club!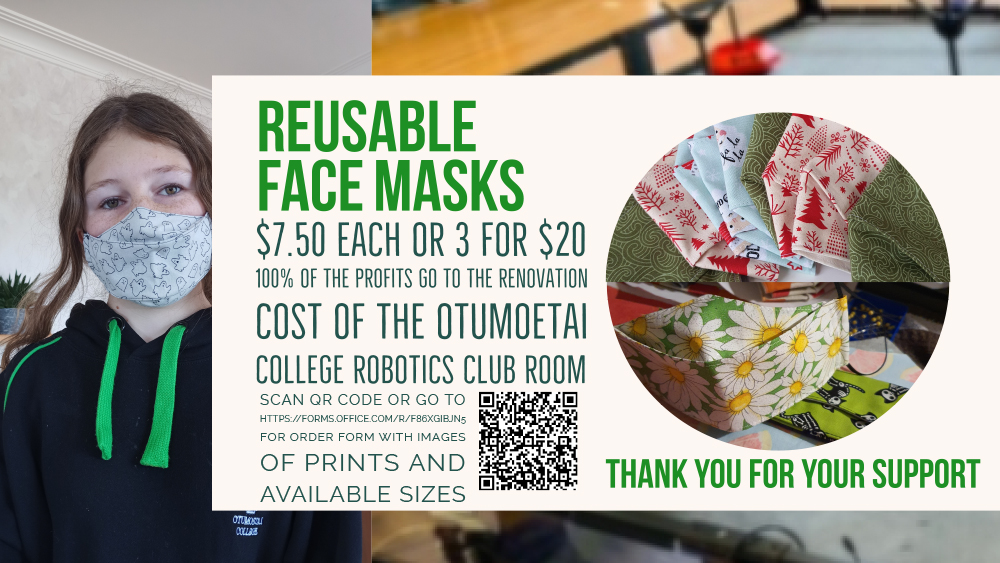 Hearing Screening for Year 9 Students
Tēna koutou e te whanau whānui Ōtūmoetai
The National Foundation for Deaf and Hard of Hearing will be providing free hearing screening at Ōtūmoetai College for Year 9 students from the 8th to the 12th of November 2021.
It is important that youth hearing loss is picked up, as early as possible, and that students can access the support services they need. The Hearing Screening program is part of a larger hearing loss study in New Zealand and we have enclosed further information for you to read about this if you wish.
If you'd like your son or daughter to be checked please complete an online consent form at this link: https://www.nfdhearinghub.org.nz/copy-of-parental-consent-form

If online consent is not convenient there will be paper copies of the consent form for students to collect from the Wellness Centre at school.
If you have any questions about the screening program please feel free to contact Agnes at agnes.mika@nfd.org.nz or (09) 307 2922, or Kate Vaaulu at Ōtūmoetai College at nurse@otc.school.nz or (07) 5762316 extn 808.
Thank you to our families and students who have kindly donated to the Foodbank Appeal over the last few weeks. The theme for today is GIVE as part of our Mental Health Awareness Week. "Volunteering and being involved with your community is strongly linked with feeling good and functioning well."
The Whare results earned:
Ōtanewainuku – 134
Karewa – 110
Manunui – 95
Pūwhenua – 93
Maunganui – 28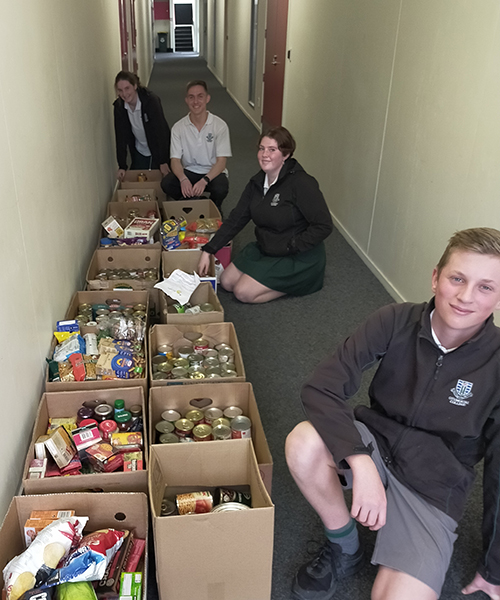 All boys & girls welcome to give Rowing a Go!