Drop for Youth – 18 September
Three of our teachers, Mrs Reynolds, Mr Williams and Mr Mahy are taking part in a challenge for a pretty awesome charity. 
On September the 18th they will be "Dropping for Youth" a fundraising incentive for the Graeme Dingle Foundation. The Graeme Dingle Foundation does fantastic work for our Kura including the STARS Mentor Programme and Project K. 
Please be generous and donate to one or all of the following teachers.
Upcoming We Will Rock You Musical
There is a large number of Ōtūmoetai College staff and students (past and present) who are involved in the upcoming We Will Rock You Musical. It features the music of Queen and a script by Ben Elton. Do come along!!
Students involved (past and present): Samantha Reyes, Lucy Dibble, Erin McCoy, Abbie Shaw, Elise Rohde, Elodie Corin, Ethan Shiriwastow, Finn Elliot-Lowe, Georgia Wilson, Kieran Tipper, Matt Henderson, Paige Henderson, Mat Patrick, Alana Milson.
Teachers involved: Mat Bodman, Kelly McNamara, Andy Roberts.
Rotary Club Car Boot Sale 2nd October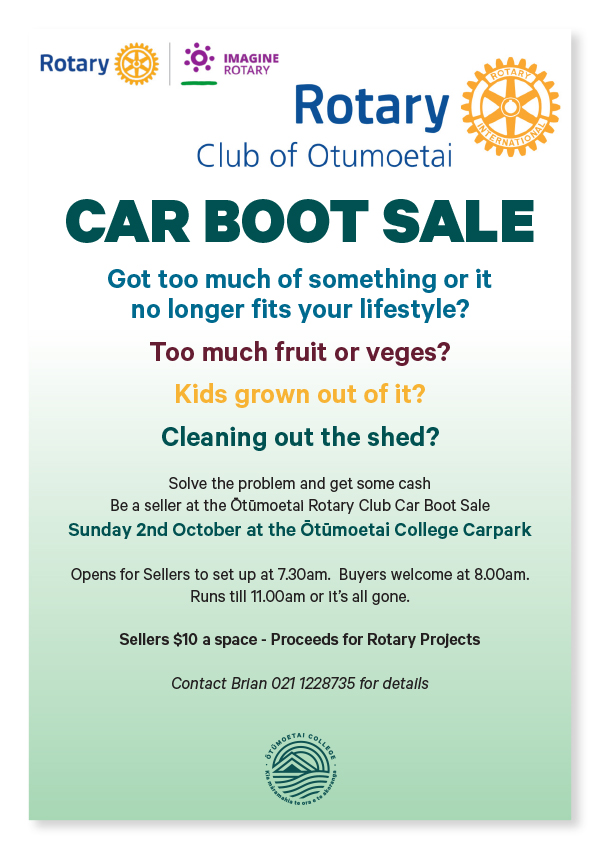 HOT Pink Walk 2022 – 5 October
Please support the Breast Cancer Support Services Tauranga Trust.
One of the major fundraising events is the HOT Pink Walk which has become a regular event in Tauranga. It's an eagerly awaited fun event! Most people arrive decked out in pink and it is based on celebrating life whilst remembering those who have had breast cancer.
The walk will take place on Wednesday 5th October starting at 5.30pm and ending around 7.30pm at Masonic Park on The Strand as in the past. The walking route (at this stage) remains the same as previous years and goes around the Tauranga CBD.