Swimming Sports – 21 September
Are you interested in earning points for your Whare? Are you keen to be a part of our Swimming Sports?
You don't need to be a swimming champion, just need to be able to swim a length or two of the pool in one or two strokes.
Fill in the registration form now BEFORE Friday 16th September.
Put this date on your calendar NOW! Event Date: Wednesday 21st September, 2022.
Rugby 7's Muster – 19 & 21 September
Rugby 7's Muster for male & female, junior and senior teams.
Monday 19th & Wednesday 21st September, 3:30pm – 5:00pm at the Ōtūmoetai College Fields.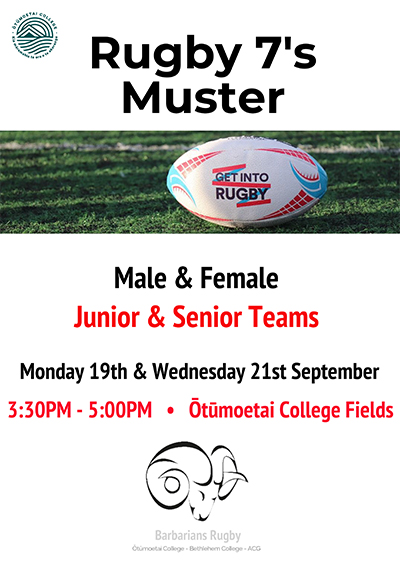 Applications for 2022 Elite Sports Awards
The 2022 Sports Awards are happening on Wednesday, 26 October.
Applications are now open for the following Elite Sports Awards:
Junior Sports Boy and Junior Sports Girl
Senior Sports Boy and Senior Sports Girl
Excellence in an Individual Sporting Code  –  Boy and Girl
For more information and to make an application please click here
Applications close on Friday, 23 September.
NZSS Wrestling Championship
Congratulations to Issac Dobbs for his recent success in the New Zealand Secondary Schools Wrestling Championship – placing 1st in the Freestyle Seniors 92kg.
1st XV Rugby Action Photos
Great photos to check out from the 1st XV Rugby final match for 2022!