Junior A Girls Hockey Team Success
Our Junior A Hockey team were recently crowned Grade 1 Champions. They beat Tauranga Girls Junior A in the semi-finals 2-1 and then went on to play their own Ōtūmoetai College 2nd XI in the finals 2-0.
The future of girls hockey is definitely looking strong.
Boys 1st XI Football – Malcolm Cowie Tournament
The Ōtūmoetai College Boys 1st XI competed at the Malcolm Cowie Tournament in Papakura from the 29th of August to the 2nd of September.
Day 1- The first game came against King's High (Dunedin) at halftime the score was 1-1 and we would eventually be outplayed giving us a 3-1 loss. King's High would go on to win the tournament. The second game was against Botany Downs Secondary College, at halftime the score was 1-1 but a dominant second half performance saw us take an emphatic 5-1 win to round off the first day.
Day 2- The third game was against Rosehill College, the halftime score of 1-1 was unfortunately unchanged at the final whistle, much to our disappointment as the far better team, we had to make sure we bounced back against Waitakere in the fourth game and we did! We went into halftime 3-1 up and worked hard to close the game out as 3-2 victors which setup an important final group game in the hunt for the top 8.
Day 3- Only 1 game on day 3 but a very important game, game 5 saw us take on Cambridge going into halftime we were down 2-1 after a very disappointing start however our second half dominance was rewarded with a late goal and a 2-2 draw at the final whistle.
A draw saw us fall to 3rd place in the group; it meant we did not qualify for the top 8 but for the 12-16th playoffs.
Day 4- Our quarter final match came against Hillcrest, with the principal Mr Russell Gordon watching on, our 1-0 lead at halftime went unchanged at the final whistle, a brilliant performance secured us a guaranteed top 12 finish heading into the semi finals, the semi final saw us play Pakuranga College. At halftime we were down 2-1 after another slow start, the scoreline went unchanged and we lost 2-1 – our first loss since the first game.
Day 5- Finals day where we were to play for 11th and 12th place against Elim, halftime saw us down 3-1 and with a mountain of a challenge in the second half. A much better second half performance saw us make a thrilling comeback to 3-3 sending the game into extra time. Elim scored early in extra time so we lost 4-3 and finished the tournament in 12th place.
That capped off a great week and our performance definitely exceeded expectations.  The MVP for our team was Kyle Koch.
We would like to thank our sponsors, Ōtūmoetai Automotive, LearnWell and The Laundry Room – Ōtūmoetai and thanks to our coach and accompanying staff Moses Caldwell, Joe Dixon and Jeff Reeder. – Jackson Hiku
From New Zealand Secondary Schools Boys Football – Congratulations to Gabriel Tinnion and Mino Deckers who were voted Ōtūmoetai College MVP (Most Valuable Player) by their tournament peers.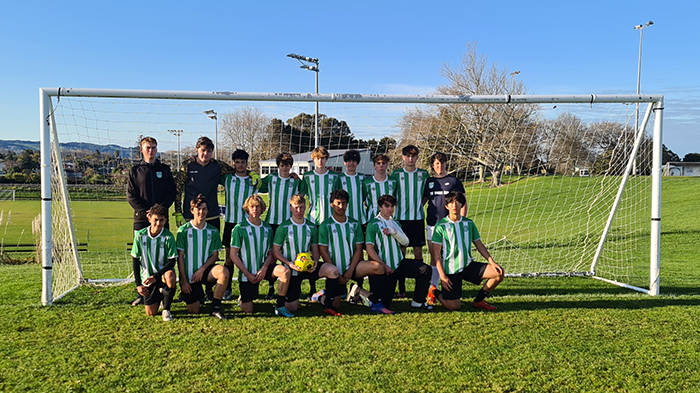 Towards the end of Term 2, an opportunity arose to become a member of the Ōtūmoetai  College Barbarians hockey team, an invitational team playing in the Wednesday Night 1st XI Hockey division. This team consisted of players from both the 2nd Xl and Junior A Ōtūmoetai College hockey teams who play on a Monday night.
Getting the opportunity to play within the 1st Xl division helped to expand my field skills, and knowledge of the game. Although being a team of girls from two competing teams, we quickly learned how to work together and support each other which has seen us  win against and challenge experienced 1st Xl teams. 
Unfortunately, our first game as a team consisted of 9 field players and a goalie and proved to be a challenge, however, with the given circumstances we gave it our all and came out with a 3-2 loss. Playing at this level of competition challenged my personal game of hockey, yet, I would argue that it has developed and broadened my gameplay to a new level. 
Our coach Alan Galletly played a huge role in shaping our newly-formed team into one that worked well together and played a strong game of hockey. His vast knowledge of hockey directly influenced my gameplay and ultimately has made me a stronger player.
With Alan's coaching, our team unexpectedly made it into the finals where we played a tough game against Te Puke High School. As a newly formed team, this opportunity to play for first and second in a 1st XI division was a privileged accomplishment even though we had an unfortunate loss. Coming into the SPL league as the underdogs and making it into the finals saw the team, and I, proud to be representing Ōtūmoetai College in the finals.
I am extremely grateful I received the opportunity to play amongst such a talented group of girls whose field play is brilliant, and to have such an experienced coach. – Olivia Chappell
When the opportunity came up to be able to play for the Barbarians team made up of our schools 2nd XI and Junior A in the 1st XI grade I thought it could be a fun experience that could teach me a few things.
The first game we played was immediately a lot faster and trickier but luckily we had Alan Galletly as our coach who told us all how to survive. Throughout the half of the season this team was together, we came together well and all developed our skills. I think this was a great opportunity and I am so glad I got to be part of it. – Charlie Murray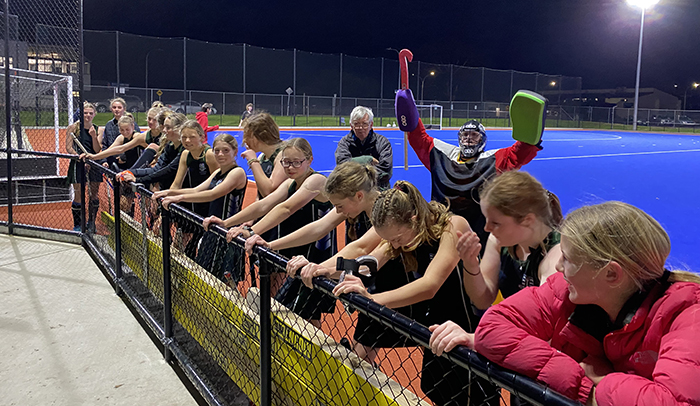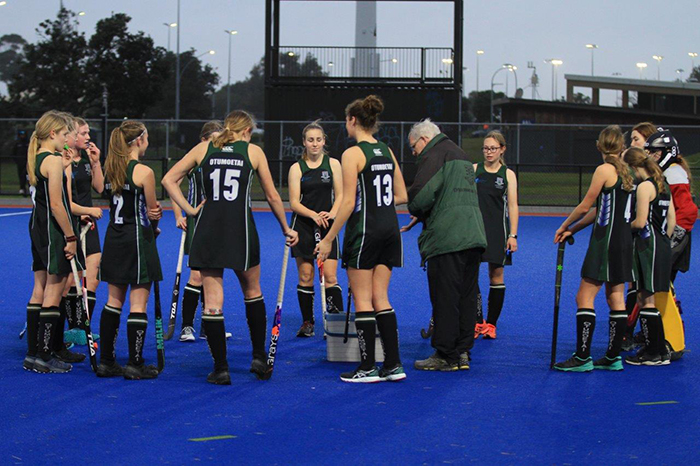 Rugby 7's Muster – 19 & 21 September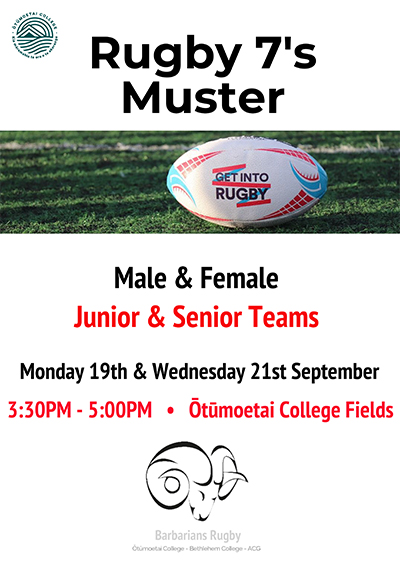 Congratulations to Kiana Rae, who has been selected to attend the NZR National Under 18 Māori Development Camp Wahine from September 15-18 in Rotorua.
These players attended and have been selected from the 3 Regional E Tu Toa camps held in July.
Best of luck in the selection process.
Girls 5-aside & Futsal Information
Any girls keen to play 5-aside football?
New & experienced players welcome! Find a team of 7-9 players or come to the Sports Office as an individual and we'll help you out!
Also details of Futsal are available on the Ōtūmoetai Football website  –  and here on Ōtūmoetai College website.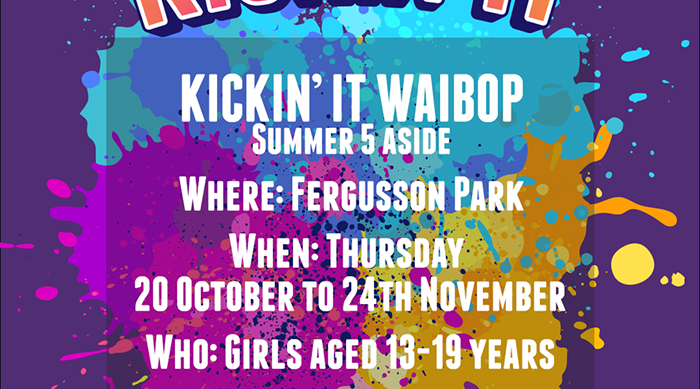 Are you keen to play Ultimate Frisbee?
Ōtūmoetai College is sending a Junior team to the BOP Champs being held on Monday 14th November. 
Fill out the form now to express your interest and we will be in touch regarding trials/training! All players are welcome! New and experienced.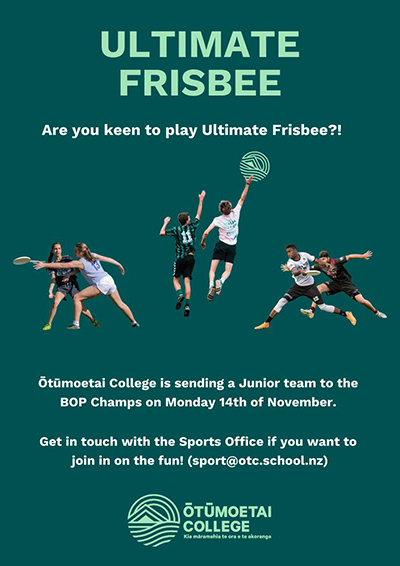 Squash Development Programme – Term 4
This development program is aimed at students in all year groups who are new to the sport of squash or who want to build on their basic skills.
Coach Graeme Randolph is an experienced coach of many years and will guide you through six weeks of training helping you develop week by week.
This program will start on Monday 17th October and will continue throughout term 4. 
All equipment will be provided and the cost is $75.