Young Enterprise Scheme – Kickstart
The Young Enterprise Scheme (YES) has started again this year with over 100 students from different schools around the Western Bay of Plenty partaking in this entrepreneurial challenge as well as other schools across the motu.
Ōtūmoetai College's Y12 and Y13 Business Management students attended their first event of the YES course for the year – Kickstart – Tīmata on Tuesday 28th February.
Students from around the Bay of Plenty got together to start developing some ideas to start a real-life business of their own. This scheme gives students the opportunity to take an idea out of their head and to turn it into a business and also meet with potential mentors and fellow entrepreneurs from around the region.
A 2022 Alumni of the college, Neisha Moore, the founding director of Moore Treats was a guest speaker at the event where she offered an insight into what the year ahead might look like and described the opportunities provided for the students to take advantage of through the YES scheme.
Look out for an update on the events that are to follow: Dragon Den's pitch, YES Trade Fair (date TBC) and others to come.
Pascale Hyboud-Peron, co-founder of Venture Centre is the YES Regional Coordinator for Tauranga/Western Bay of Plenty and will be our go to person with helping our rangatahi succeed in business.
For more information on the Young Enterprise scheme click here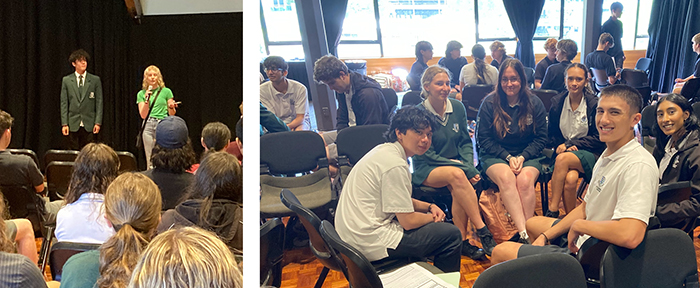 Mufti Day – Thursday 9 March
Cyclone Gabrielle has had a devastating long term effect on Hawkes Bay, Gisborne and many other communities.
To help those affected by the cyclone, we have organised a student-led Mufti Day fundraiser which will be held next Thursday. This is a day where students and staff can come to school wearing white and black (Hawkes Bay colours) in exchange for a gold coin donation to be given to the Red Cross Disaster Fund.
There will be black and white buckets floating around during interval and lunch collecting donations – cash and EFTPOS available. All proceeds will go directly to the victims of the cyclone through the Red Cross disaster fund.
We will also be selling black and white ribbons to show our support. We hope that everyone will be able to get involved and contribute to the cause.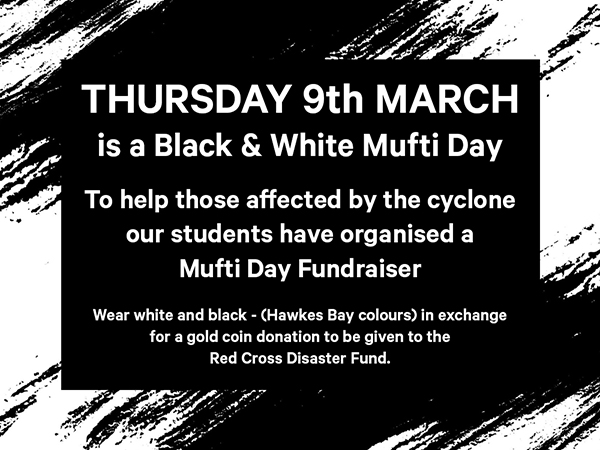 Interested in Rotary Youth Exchange?
Rotary Youth Exchange Basics:
Northern Hemisphere students will exchange into NZ in July 2023
Kiwi students will be sent abroad in January 2024
The Rotary International Youth Exchange programme is a 1 year exchange designed for students who will be aged 16 or 17 in the January of the year that they leave New Zealand
Prior to COVID, every year about 40 to 50 students leave New Zealand in January to spend a year living in another country, learning the language and culture of that country and attending school there.
They generally live with 3 or 4 host families and are hosted by a local Rotary club.
Almost invariably when they return to New Zealand the following January they are more confident, independent and mature and with a greater understanding of how other people live. They have also made friends with other students from around the world.
To go on the exchange students are required to apply through a local Rotary club (applications close in late February 2023), attend a further interview and selection process by the District Committee responsible for administering the programme and then take part in a series of orientation days. This process ensures that the students are well prepared for their year away and that they will be good ambassadors for New Zealand.