ŌTC B Hockey Team Wins Division Championship
The Ōtūmoetai College Junior B Girls team won the Championship 2 Division – taking home The Bigham Cup on Monday night.
They had a very successful first round winning 3 games and drawing 2 finishing top of their table. 
The final was a well contested game against ACG 1st XI with Ōtūmoetai winning 2-0. 
The girls can be congratulated for their teamwork, grit and resilience as they have trained and played in some very adverse weather, without a goalie, and with no subs. 
Further Results
| | | | |
| --- | --- | --- | --- |
| Boys | 1st XI vs Papamoa | Won 7-1 | Finished 4th |
| | 2nd XI vs TBC Colts | Won 4-1 | Finished 3rd |
| Girls | 1st XI vs Papamoa 1st XI | Won 5-0 | Finished 2nd |
| | 2nd XI vs TGC 2nd XI | Lost 1-0 | Finished 2nd |
| | Junior A beat TGC 3rd XI | Won 3-2 | Finished 3rd |
| | Junior B beat ACG 1st XI | Won 2-0 | Finished 1st |
| | Teal team | Lost 5-2 | Finished 6th |
Ōtūmoetai College Rowing – Stihl Ergathon Fundraiser
On Saturday 17th June we hosted the inaugural Stihl Ergathon Fundraiser here at Ōtūmoetai College. This event would not have been possible without the incredible work of our Ōtūmoetai College rowing parents and volunteers. 
This event was solely organised to raise funds to make rowing more accessible to our students and help pay for the costs of competing at next year's Maadi Cup which will take place in the magical setting of Twizel.
What a magnificent event it was, well supported by a diverse range of great humans from our community and beyond. Fourteen teams in total competed to be crowned the Stihl Ergathon 2023 Champions. This, now prestigious award, was taken by the incredible RowHard Team covering a total distance of approximately 75,000 metres in 4 hours.
As you can see from the photos attached, a staff team was also entered and finished mid pack.  Everyone involved had a wonderful afternoon, many of the staff who came to support intended to stay for an hour, however, the atmosphere was such that they all hung in there to the bitter end. This was helped by a challenge that was extended by the MC, halfway through the event. 
 The Challenge:  ŌTC STAFF v ŌTC ROWING STUDENTS.  Winner takes the bragging rights! Well, they accepted the challenge, even though they were approximately 1000 metres behind the students at that stage. Cut a long story short, staff beat students by 25 metres after 4 long hours.  
To the staff that supported this fundraiser – Thank You. 
To the sponsors and teams who supported this fantastic event and the ŌTC Rowing community, Thank You and we hope to see you again next year.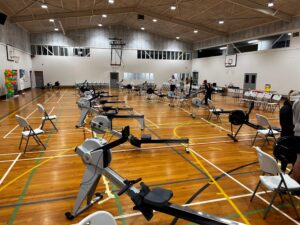 Ergathon set up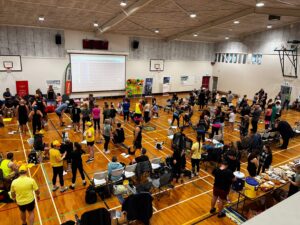 Ergathon – action
Bay of Plenty Secondary Schools Badminton
Badminton is one of the fastest growing sports at Ōtūmoetai College, with over 80 students involved in weekly training sessions at school.
Our senior teams competed in the Western Bay of Plenty Secondary Schools competition on Friday 16th June with strong performances across all three teams.
Results
Boys – 2nd in Division 2 (Qualified for Bay of Plenty Champs)
Lachlan Shefferd, Jack Ouwejan, Wesley Newland & Logan Purser
Girls A team – 3rd in Div. 1/2 (Qualified for BOP Champs)
Deep Kaur, Jemma Stewart, Greta Faber & Cleo Putty
Girls B team – 1st in Div. 3 (Qualified for BOP Champs)
Poppy King, Dhruvi Patel, Melissa Phirun, Amelia Shorter & Neeve Wilson
Many thanks to Stacey Shefferd for managing these teams at the competition.
The Not So Sports Club is still going strong here at Ōtūmoetai College. This is a club for girls for whom competitive sport might not be a setting where they enjoy being active but enjoy the company of others like minded girls and the challenge of physical activity.
This club is in its second year and its popularity is ever increasing thanks to the amazing work of our NSSC coordinator, Kathy Miller and her wonderful assistant, Kendall.
They continue to go out each week and take part in activities which help build confidence, self determination and discover the enjoyment of being active.
If you would like further information regarding this fantastic program please email Kathy Miller – bop@forwardfoundation.co.nz
Ōtūmoetai Intermediate School Sports Academy
The Ōtūmoetai Intermediate School is making full use of our new Strength & Conditioning facilities with their Sports Academy taking part in weekly sessions. 
The main focus for these students are:
Athlete Education
Understanding the link between Strength & Conditioning and injury prevention. 

Develop an understanding of our everyday movement patterns and sports performance. 

Why we focus on building a foundation of movement competency.
Strength & Conditioning
What is Strength & Conditioning?

Resistance Training Skills Competency:
Safety

Exercise selection

Which exercises target specific movement patterns 

The link between exercise selection and sports performance

Understanding a strength & conditioning program
The students have been incredible, showing high levels of enthusiasm and desire to learn. These sessions will continue into Term 3 as we continue to build on an already strong relationship between the two schools.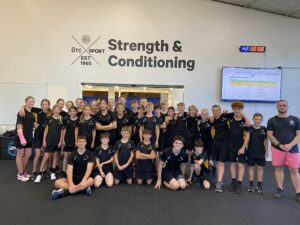 Group photo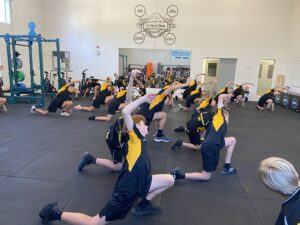 Stretching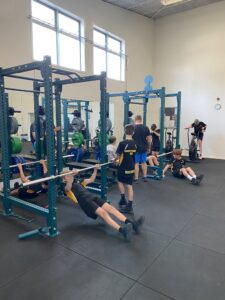 Supine row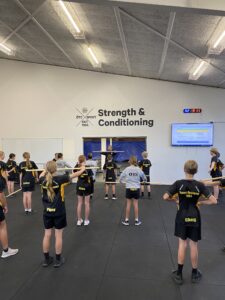 Wooden dowel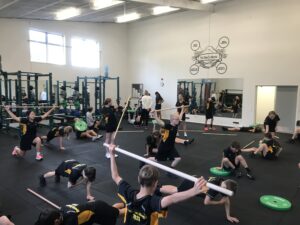 Workout 1