Ōtūmoetai College Student's Continuing Success
Ōtūmoetai College Sports Office and Tauranga Artistic swimming would like to congratulate Year 13 student Chloe Boyt on being selected as one of the 10 travelling squad members of the New Zealand Aquaferns, representing New Zealand at the Aquatics World Champions in Japan. 
The squad flies out on Saturday for a pre competition training camp in Okayama and then travels on to Fukuoka for the event. The squad has a lofty goal of being the highest placed Oceania team, opening up the option to be selected for the Paris Olympics 2024. We hope you will join us in wishing Chloe and the team every success.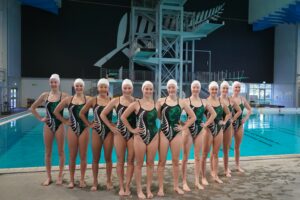 Chloe Boyt 4th from the left
ŌTC Year 11 Student bound for BMX World Championship
Ōtūmoetai College student, Hannah Mason competes actively on the BMXNZ national race circuit and is a national ranked rider.
At the 2023 BMXNZ National Championships held in March, Hannah qualified to represent New Zealand at the UCI BMX World Championships being held in Glasgow, Scotland. The event is from 6th to 13th August 2023.
Being part of the New Zealand team is a significant milestone in Hannah's sporting career and her collective whanau are extremely proud of her achievements. The effort, decidation, focus and achievements is a testament of her training and racing regime.
The Ōtūmoetai College community sends their best wishes to Hannah and congratulate her on this huge accomplishment and look forward to hearing of her continued sporting success.
Bay of Plenty Squash – Girls Team Championship
On Monday 26th June, our top femail squash players competed in the BOPSS team championships. Unfortunately, the only other entrant in Division One was Tauranga Girls College. Our team of Erin Wyllie, Hope Kennerley and Grace Spencer were too strong, winning 2-1.
This bodes well for the National Championships in August, in which our girls team are 2x defending Champions. The other girls who will be competing at the National event are Gen Kennerley, Mia Bowles and Neeve Wilson.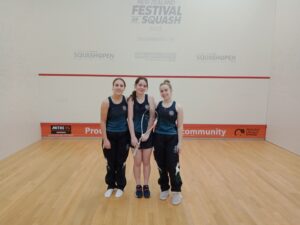 Left to right: Hope Kennerley, Grace Spencer and Erin Wyllie
Coaching Session with Tane Bennett, Whai Basketball Assistant Coach
Ōtūmoetai College students had the amazing opportunity to be coached by Tane Bennett, Whai Basketball teams assistant coach early this week.
This allowed our talented junior boys, girls and senior boys to work with and be coached by one of the best coaches in the Bay of Plenty. Players worked a lot on footwork, pick and roll (creating an advance) and decision making.